A Jobs Creator?
,
Mitt Romney (R) & Deval Patrick (D)
A tale of Two governors as Jobs Creators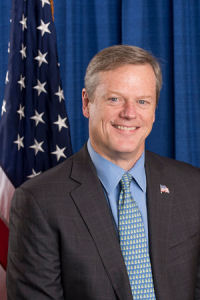 As you know, the jobless rate each state roughly reflects the jobless rate of the country.
.
Romney served as Massachusetts governor from the start January 2, 2003, to January 4, 2007. Patrick from Jan. 4 2007 to present.
So let's look at the jobless rate in the USA and Massachusetts when they were governors in the following interactive graph with data from Bureau of Labor Statistics
.
Unemployment graph for Massachusetts and USA
.
Mitt Romney (R) & Jobs
Basically, at the start and a few months into his administration the MA jobless rate is a tiny bit below the USA  and when his administration ends it's a tiny bit above or flat.
.
Romney's public record as a jobs creator is
slightly below average
.
Deval Patrick (D) and Jobs
Basically, Patrick starts out with a jobless rate that's flat or slightly above the USA average. But as the graph shows over time to today that difference widens to a huge 1.5% better than the national average.
.
Patrick's public record as a jobs creator is
outstanding
.
Einstein said everything is relative. So compare Patrick to Romney & Romney to the USA. Which governor made a difference in Massachusetts?
.
Romney, the businessman's
record as an elected official
in creating jobs is
Below Average
,
********************
STOCKS
.
Wall Street Bull and OWS Symbol
.
Outlook pretty much the same. Some major banks report early today and tech companies after the bell.
Semi conductors and home builders are leading the bulls
Our #1 technical forecasting tool, the McCellan Oscillator (MO) rose to 

+52.25

.  50DMA at +1.41 (for more see  STRATEGY link at top of blog) Just below ovebought territory = NEUTRAL/

BEARISH
DAX way up

0.55%

this AM (8:00 EST) and the Italian 10 year bond is in full retreat for over a week. The correlation between European & US stock markets has become weaker, but still significant. Latest data below. All this = 

BULLISH
Overnight Data From Europe
Germany's DAX
Italian 10 year bond
********************
.
Longer Term Outlook
3 months+
.
Still
CAUTIOUSLY BULLISH
.
AS ALWAYS, DO YOUR OWN RESEARCH BEFORE INVESTING
ALL TRADING INVOLVES RISK AND POTENTIAL LOSS OF PRINCIPLE
CHECK ALL DATA, I MAKE MORE THAN GRAMMAR  ERRORS.
.