Bernanke Speech today in Jackson Hole
HFT's Caught in the Act.
Anyone's whose read Investor411 nows about how much of the market is controled by High Frequency Traders HFT's The damage they cause, and the loss of income to ordinary investors goes under reported
Zero Hedge, may not be your cup of tea (its not mine) as a web site, but they have graphically shown how "quote stuffing" (one of the ways your investment is manipulated in their favor) works LINK to explanation and the charts are theirs.
The explanation is rather technical but the bottom line speaks to the lack of stock market integrity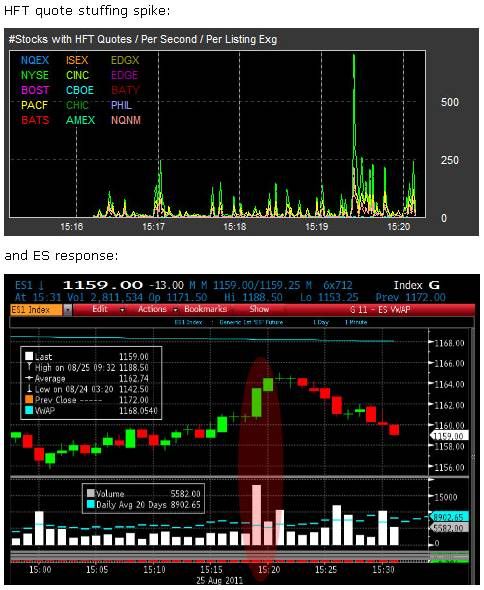 ___________
KISS & Stocks
(Keep It Simple Stupid)
If you don't understand a term look in up at Investopedia.com dictionary
AS ALWAYS, DO YOUR OWN RESEARCH BEFORE INVESTING!
DOUBLE CHECK ALL DATA, I MAKE MORE THAN GRAMMAR MISTAKES
The Dead Cat Bounce Didn't bounce yesterday
| Index | Percentage | Volume |
| --- | --- | --- |
| Dow | -1.51% | low |
| NASDQ | -1.95% | low |
| S&P 500 | -1.56% | low |
| Russell 2000 | -2.62% | - |
_______________
Technicals, Fundamentals & Analysis
Shorter Term Outlook.
day/days/week
Very little to add. All eyes on Bernanke and what he says today (see Jackson Hole reference below)
Technically we have formed a

double bottom

for most major indexes and that's

bullish.
Very low volume shows even more control of markets by

HFT's
The McClellan Oscillator (MO) fell to to

-1.04

(

-30 somewhat oversold, -60 oversold, -90 OMG oversold)( +30 somewhat overbought, +60 overbought and +90 OMG overbought

)  

=

Neutral
From Yesterday

Reading the Tea

Leaves-US stocks sure has all the feel of a dead cat bounce… Also first hurricane in a decade to hit NYC not bullish. T

he dead cat didn't bounce. Today is all about Bernanke and how the algorithms the HFT's use play off what Bernanke says. Tea leaves say bear win.
Longer Term Outlook
weeks, month, months
Repeat - May 20th

forecast still stands. The May 20th summer forecast has come to pass and now we wait to see the Fed's next move. Add to this Europe is a whole lot worse than previously thought back in May

.
Repeat - 

Reading Tea Leaves

- I believe we need another 5 to 10%  

(now @ 4 to 8 %)

drop to the downside before the Fed will intervene more strongly (QE #3 or something else) Perhaps this will come at the end of the week when there's a meeting in Jackson Hole Wyoming. LINK So still 

CAUTIOUSLY BEARISH
______________
Current Positions
Below – Investors411  hypothetical portfolio that should outperform the S&P 500.
.
NLY - Annaly Capital Mgt. Ultra high dividend stock – So far NLY has held up reasonably well through current stock market slide. NLY is the only position in Investors411 hypothetical portfolio. Easily outperformed S&P 500 over last couple months and 14% dividend is added bonus.
I still have a Put position to protect NLY. (strike price $17.00 for 3rd Friday in Sept) Also puts on other dividend stocks.
GLD – (Long Gold ETF) From Yesterday  "going to start to nibble a little on dip today and add more on further dips". Bought dip as stock near the open at 167.05 a half position
Disclaimer - Personally I own  a group of dividend stocks including NLY, SNH, KMP, MO, HTD, T, ABV & AGNC and a few other smaller positions I have puts on about half of dividend stocks I own. I buy everything in the hypothetical Investors411 portfolio. I also ow SDS & TZA (ETF's that double and triple short the market) as hedges.
_______________
Long Term Outlook (for US stocks)
CAUTIOUSLY BEARISH*
*Investors411 has 5 different long term valuations - BULLISH, CAUTIOUSLY BULLISH, NEUTRAL, CAUTIOUSLY BEARISH, and BEARISH.
* Everything written in BROWN is a repeat from a previous day
AS ALWAYS, DO YOUR OWN RESEARCH BEFORE INVESTING
ALL TRADING INVOLVES RISK AND POTENTIAL LOSS OF PRINCIPLE