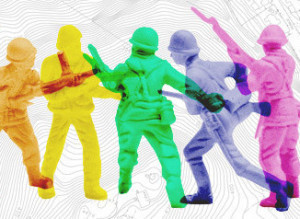 Civil Rights Victory
Those that watched the Republican debate last night or read about it, know that a gay soldier who asked a question was booed  by the audience. Shameful. Gay rights is this generations civil rights issue like integration was ours back in the 60′s.
The repeal of "Don't Ask Don't Tell" was obviously a major step. Decade long poll numbers, especially among younger Americans, are increasing in support of gay rights. Excellent editorial from Huffington Post (Photo also from HP) by Aaron Belkin on "How We won."
Ron Suskind
Disfunction Junction
Failure to Regulate Banking industry is coming back to haunt investors and again threaten the world economy. When you listen to shadow bank CEO cry and whine crocodile tears about too much regulation ask them to name one banker whose gone to jail over the Wall Street 2008 financial crisis (remember Madoff ran his own seperate ponzi scheme which he got away with for years)
Also give them Matt Taibbi research that shows how in bed the limited amount of investigators are with the industry.
Today
Shadow Banks have their own special accounting system. The do not have to "mark to market" accounting.

Shadow Banks operate on the unregulated $600 trillion dollar Credit Defaults Swaps Exchange. (no one knows who buys and sells)

Shadow Banks are also invested in everything from home loans to Greek bonds to CDS's on French Banks.
As an investor, do you want to invest in the shadows of an opaque banking system when all you have is some CEO saying – "We are not over leveraged?" No wonder Financials (XLF) are leading stocks lower.
Pulitzer Prize winner Ron Suskind has a new book, Confidence Men, that focuses on Obama's failure to act on banking regulations.
__________________
__________________
Stocks
If you don't understand a term look in up at Investopedia.com dictionary
AS ALWAYS, DO YOUR OWN RESEARCH BEFORE INVESTING!
DOUBLE CHECK ALL DATA, I MAKE MORE THAN GRAMMAR MISTAKES
| Index | Percentage | Volume |
| --- | --- | --- |
| Dow | -3.51% | up |
| NASDQ | -3.25% | up |
| S&P 500 | -3.19% | up |
| Russell 2000 | -3.18% | |
__________________
Market Analysis
Focus on Technicals, Fundamentals & HFT's
A major meltdown in increased volume. The support levels for the major indexes held. We did near the end of the day break support for Dow & S&P, but rallied near close. This is

Bullish in short term.
However, Copper (JJC) (proxy for global growth) Financials (XLF) & Energy (XLE) all made major new lows.

This is bearish long term
Europe continues the meltdown today At 8:44 EST down 1.43 to 2.33%   Stockcharts homepage has up to minute listings in one easy to read box of US & Europe
Trend

- 

Kicking the can down the road on Greece is mana from heaven for HFT who can use every news items to execute short squeezes, pump and dumps or catching institutional traders with losing long positions.
Investors411 Technical Forecasting Tools.
The PCR fell slightly to

1.27

(Roughly - above 1.25 is getting Bullish and below 0.80 is getting Bearish. 1.00 = same amount of puts and calls. Over last two years the highest for PCR is @1.50 and lowest @0.60 - anything approach these levels shows change likely For more information on PCR

LINK)  Not at extreme reversal levels but we have two days above 1.25 =

Bearish

/Neutral
(MO) fell  to

-66.82

(Rough estimates =-30 somewhat oversold, -60 oversold, -90 OMG oversold & +30 somewhat overbought, +60 overbought and +90 OMG overbought)

Oversold, We did hit a record low of -140 on 8/8. So, while oversold, we could go lower. =

Bullish

/Neutral
__________________________
Reading The Tea Leaves
Short Term Outlook
days, week+
Forecasting tools more

Bullish

than Neutral. This indicates

risk on

trading opportunit

y.

If you can handle the risk the odds seem to be in your favor. Investors411 conservatively prefers to wait for a better situation – In this case a bigger dip that leads to more extreme reading on the MO & PCR.
Best read of the tea leaves is HFT's and pros can make more $$$ by breaking support levels and increasing panic. Also the lower the market goes the more pressure on Bernanke to do QE #3.
Longer Term Outlook
month, months
Repeat Same old mantra

- May 20th forecast still stands. The May 20th summer forecast has come to pass and now we wait to see the Fed's next move. Add to this Europe is a whole lot worse than previously thought back in May. For the Fed to act significantly – inject more liquidity - I'm afraid we need to see stocks do worse for that to happen.
Energy , Financials and Copper (proxy for global growth) all made significant new lows yesterday =

Long Term Bearish.
Yesterday's lead editorial contained reasoning behind long term outlook –

CAUTIOUSLY BEARISH.
_____________________
Current Positions
Below – Investors411  hypothetical portfolio that should outperform the S&P 500
See POSITIONS Section of blog for more on YSL#5.(scroll to bottom)
Yesterday Investors411, as stated, sold all positions. Now looking for more of a dip to buy.
Traders – We have a risk on opportunity that The Critic (see comment section of blog) took yesterday. Our two forecasting tools are with the bulls, but not yet at the more extreme levels where its even safer to buy.
Investors - Yesterday's lead story is the Long Term Outlook for the Fall.
Positions
NLY - Annaly Capital Mgt. Ultra high dividend stock –a @14% dividend NLY was bought in mid May at 17.14
Sold at 17.70 for 3+ gain add to that a 3 to 4 % dividend check and total = almost +7%. Not bad when you consider the benchmark S&P 500 was down @-17% in the same period. Again Investors411 beats its benchmark S&P 500.
Mea Culpa – In retrospect this was a poor time to sell. NLY had done well through the meltdown. Unfortunately yesterday's warning to sell covered all stocks. NLY is nearing the date you have to hold the stock to get the dividend. A period NLY usually rises. Will buy back on dip.
GLD – (Long Gold ETF) Bought at 167.05 - Sold 1/2 for 8% gain.
Sold remaining GLD at 167.05 for 0% gain. GLD hit the stop/loss order. Total for trade +4%
Looking to buy back into GLD – Gold fell yesterday because so many were liquidating positions from hedge funds and money managers, the managers sold GLD to cover those cash redemptions. This occurs often on major meltdown days.
Why gold? – Europe is going to try to join the USA in zero% interest rates sometime down the road and Bernanke will probably be forced to use printing press to help Europe and USA get out of economic problems. This will again be bullish for gold. So again - buy the dip.
Investors411 Portfolio gained @+11% while the S&P lost @-17%
Disclaimer - I buy everything in the hypothetical Investors411 portfolio. If stock is mentioned and I own it you will know.
_________________________
Long Term Outlook
(for US stocks only – not our economy)
CAUTIOUSLY BEARISH*
*Investors411 has 5 different long term valuations - BULLISH, CAUTIOUSLY BULLISH, NEUTRAL, CAUTIOUSLY BEARISH, and BEARISH.
* Everything written in BROWN is a repeat from a previous day(s)
AS ALWAYS, DO YOUR OWN RESEARCH BEFORE INVESTING
ALL TRADING INVOLVES RISK AND POTENTIAL LOSS OF PRINCIPLE