An Election Wordle (Word Cloud) from Newswag
Elections
(Part 1)
Tuesday November 2nd is election day in the USA.
Obviously much has changed since the 2008 elections that impact the fabric of our Democracy.
The 5 to 4 Decision by the Supreme Court has overturned a century old restriction and given corporations and other outside entities (any wealthy individual can incorporate and influence elections) the power to give almost unlimited funds to influence an election.
Money is the mother's milk of politics/elections and already the PAC's that are dominated by hidden money, corporations, wealthy individuals, unions & groups have far outspent both political parties combined. You are limited and audited in the amount of money that you can contribute. In fact, organizations outside the USA can now buy propaganda to influence votes. Even companies that received your bailout tax dollars are now buying votes – List of companies and candidates they support
There is of course times when overwhelming money on one side can be beaten. What you need is a message and a reasonable amount of financing to get the message out. Here's a message and a negative add that works, by a candidate ahead in the polls. His opponent Meg Whitman has spent a record in campaign spending for a Senate seat yet Jerry Brown is ahead because of his message and adds like THIS When you go negative use humor.
Complete fun is Hitler Finds out "governor Moonbeam" Jerry Brown is running for governor –  The Hitler series of videos is outrageously funny and thanks to
D for sending them in.
The trend – The 2010 elections are part of a bigger trend that has endured throughout history. A minority of wealthy individuals centralize or accumulate power and working people eventually realize they are better off with a democracy that gives them and their families a better opportunity. Our trend in the USA  over decades has been toward a wealthy oligarchy. The lobbyists that control Washington are tightening their grip.
Ironically, much of the other 96% of the worlds populations are growing in a different direction. Look at Brazil right now with the lowest unemployment ever and a government that has spread the wealth to its working class. Working people are gaining power and money is flowing in a flourishing capitalist systems.
The pendulum of this trend swings back and forth.
(Tomorrow US Elections -Down and Dirty)
KISS & Stocks (Keep It Simple Stupid)
If you don't understand a term look in up at Investopedia.com dictionary
AS ALWAYS, DO YOUR OWN RESEARCH BEFORE INVESTING!
DOUBLE CHECK ALL DATA, I MAKE MORE THAN GRAMMAR MISTAKES
| Index | Percentage | Volume |
| --- | --- | --- |
| Dow | -0.13% | down |
| NASDQ | +0.80% | down |
| S&P | +0.24% | down |
| Russell 2000 | +0.76% | - |
Technicals, Fundamentals & Analysis
Investors411 record – 5 years of beating benchmark S&P 500
US Stock Markets -
The dollar went nowhere in light volume (See UUP & USD below). So stocks went nowhere in light volume.
Good earning are getting sold into or the stock are only going up slightly. This suggests the rally may have run out of some steam in the middle of earnings season.
But all eyes are on the dollar.
If you'd like to know more about the dollar and its inverse relationship to stocks and commodities check here & here
Significant Indexes
The Dollar (USD) [

Anything daily price move over +/- 0.50 is significant. Dollar usually moves inversely to stocks

] The dollar rose an insignificant 

+0.06%

Friday. Dollar currently moving sideways within a range (see below) Trend for stocks = Neutral
The Baltic Dry Index (BDI) [

measures cost of world trade. Also proxy for China, emerging markets, exporting countries

] Rose a minor +0.26% Friday. BDI now consolidating after bull run that began in June. Longer term Pattern= 

Bullish

/Neutral
McClellan Index – (MO) [

The rough guideline is over +60 = overbought market = sell positions or short stocks, & -60 = oversold market = buy stocks.

] Rose slightly to 

-1.14

yesterday. Lot of room to move both higher and lower. Location= NEUTRAL
Reading Tea Leaves.
The Dollar War mentioned Friday continues, but both sides took a holiday on Friday. Best read is nothing happens till, the elections, the Fed Meeting, or some pronouncement about QE2 (QE2 = The Fed printing and dumping more $ into economy.
UUP the dollar tracking ETF continues to be the index to watch.
Any move in UUP above 22.7 resistance is trouble for stocks. Any move below 22.18 support level is good for stocks. A breakout of either the support or resistance level will tell you who wins the dollar war. UUP at 22.47
Longer term depends on which way the dollar breaks (breaks support of resistance)
Shorter term we could drift up in stocks as long as dollar remains flat.
Here's a chart showing the inverse relationship between the S&P 500 and the US dollar
Black line is the S&P and candlestick chart the dollar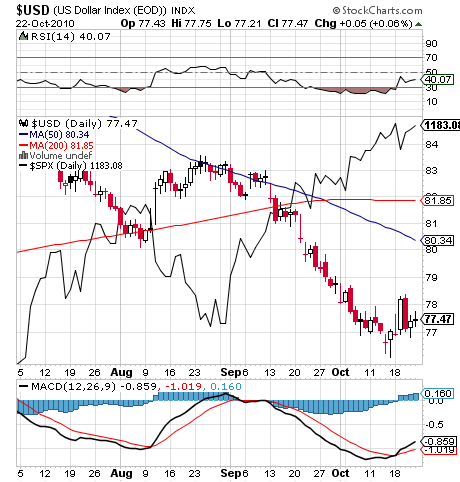 Positions
The  Positions Section link to latest & former buys and sells  - These are positions I actually own
(I do manage 6 accounts that have other positions)
EWS (Singapore)
SSO (2x what S&P does)
Not making any specific move until dollar breaks out of its range. I would look at a breakout higher for the dollar, and a corresponding fall in stocks and the MO to oversold as a buying opportunity for long term investors.
Look for Paul R's always enlightening remarks on stocks and sectors in the comments section of the blog. See POSITION section of blog for lists of potential stocks & ETF's including "YOUR Stock List."
Longer Term Outlook - 
CAUTIOUSLY BULLISH
AS ALWAYS, DO YOUR OWN RESEARCH BEFORE INVESTING!