Europe Burning
Best concise Summary of Information on what's happening in Europe.
Latest news on how up to their eyeballs our Fed Reserve Bank & Sec. of Treasury are in Europe
The biggest financial crisis confronting the planet.
A crisis that may lead to a prolonged world wide recession and have you heard anything from Republican candidates on what to do?
What's happened to our Press, Republican debates and candidates who present solutions instead of sound bites?
___________________
Debt Solutions
Today's new deficit hawks will squawk when it comes to anything that cuts the middle class, but almost never even look at military spending/empire building and the wealthy.
In Europe they are placing a small @0.05% tax on stock transactions. This should make the EU up to $60 billion dollars a year. It passed by a 4 to 1 margin. Even Bill Gates supports this in the USA.
HFT's would be the ones paying this bulk of this tax. Yet nothing is happening. LINK to more info
Thanks to Jim J. for heads up on this (see comments section of blog)
_____________________
Wall Street Protests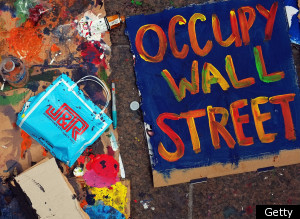 The anti Wall Street (You're hoarding record profits and handing out huge bonuses to uber wealthy executives) seems to be gaining a little momentum. After 700 arrests they keep marching. LINK
Most are in this for fairness and not to take down Wall Street.
__________________
Stocks
If you don't understand a term look in up at Investopedia.com dictionary
AS ALWAYS, DO YOUR OWN RESEARCH BEFORE INVESTING!
DOUBLE CHECK ALL DATA, I MAKE MORE THAN GRAMMAR MISTAKES
| Index | Percentage | Volume |
| --- | --- | --- |
| Dow | -2,16% | down |
| NASDQ | -2.63% | down |
| S&P 500 | -2.50% | down |
| Russell 2000 | -2.81% | |
_______________________
Market Analysis
Focus on Technicals, Fundamentals & HFT's
Bears

seem to be back in charge of momentum.

If you are a technical wonk you will love

this technical analysis

on

how bulls are loosing control

.
Trend - Kicking the can down the road on Greece is mana from heaven for HFT's who can use every news items to execute short squeezes, pump and dumps or catching institutional traders with losing long positions. An extremely strong correlation exists between European and US markets.
Long Term Stock Trend - The benchmark S&P 500 (see chart on right side of blog) has spent the entire months of August and September trading below the 50 & 200 day price moving average (red and blue lines on chart) – Any credible analyst will tell you that's a

very

bearish sign.
HFT's Investors411 uses a broad definition of HFT's to include all programed trading using computer algorithms.  Here's an old 2009 Jon Stewart parody

on HFT' that is informative and fun.
Investors411 – Technical Forecasting Tools.
The PCR rose to +1.25

(R

oughly - above 1.25 is getting Bearish and below 0.80 is getting Bullish. 1.00 = same amount of puts and calls. Over last two years the highest for PCR is @1.50 and lowest @0.60 - anything approach these levels shows change likely For more information on PCR LINK) Above 1.00 which makes it a wee bit bullish, but overall = 

Neutral/

bearish
(MO) fell  to

-16.85

(Rough estimates =-30 somewhat oversold, -60 oversold, -90 OMG oversold & +30 somewhat overbought, +60 overbought and +90 OMG overbought) Another 200 Dow point meltdown should wake up some bulls but for now = 

Neutral
__________________________
Reading The Tea Leaves
Short Term Outlook
days, week+
Both Forecasting tools are Neutral.  PCR a wee bit bearish, but probably balanced by Bear's momentum.
Financials (ETF =

XLF) are the sector to watch. They are at the heart o the European crisis and what ails the USA. Long term their chart is bearish. Shorter term there is a series of lower highs and lows on the chart = bearish. US stocks can NOT sustain a rally can without this group.
Longer Term Outlook
month, months
Repeat Same old mantra – May 20th

forecast still stands. The May 20th summer forecast has come to pass and now we wait to see the Fed's next move. Add to this Europe is a whole lot worse than previously thought back in May. For the Fed to act significantly – inject more liquidity - I'm afraid we need to see stocks do worse for that to happen.
_________________________
Current Positions
Below – Investors411  hypothetical portfolio that should outperform the S&P 500
See POSITIONS Section of blog for more on YSL#5.(scroll to bottom)
Traders
Forecasting tools show No advantage either way.
Best single concept – Short financials in any rally till the Fed offers more liquidity (ex. QE #3)
Our Hedge Investment - Theory Technology will do better than financial sector over time. Going long and short. hopefully covers us in up or down market.
Short Financials – Investors411 will use ultra short SKF (opened at 78.91 – now at 84.39
Long technology - Investors411 will use ultra long QQQ (tech's) QLD (opened at 81.13 – now at 72.95)
After starting out well this hedge has taken a turn for the worse last week, but rebounded Friday. I do have confidence in the concept long term, but may have entered at the wrong time.
Mea Culpa – The problem is not much thought was put into the entry point. Example – you would rather invest when the MO is low. (below 60) In this case a better entry would have been when financials had outperformed techs for a few days. It's a rookie mistake
If hedge breaks down and hits the -7 to -10% I'll exit positions. I'll let you know in the comments section of blog.  Almost all our trades in this year have been winners, but not always. Again – Will post in comment section if exiting trade.
Disclaimer - I buy everything in the hypothetical Investors411 portfolio. If stock is mentioned and I own it you will know.
_________________________
Long Term Outlook
(for US stocks only – not our economy)
CAUTIOUSLY BEARISH*
*Investors411 has 5 different long term valuations - BULLISH, CAUTIOUSLY BULLISH, NEUTRAL, CAUTIOUSLY BEARISH, and BEARISH.
* Everything written in BROWN is a repeat from a previous day(s)
AS ALWAYS, DO YOUR OWN RESEARCH BEFORE INVESTING
ALL TRADING INVOLVES RISK AND POTENTIAL LOSS OF PRINCIPLE