.
Fancy Pants Debt
If YOUR eyes gloss over when they explain economics (and even if they don't)
This 3:49 seconds video is for you.
YOUR investments dollars, from the stock market to your houses value, depend on the quality of debt. So does world economics. Good debt, Bad debt and Fancy Pants debt.
The video is FUN, Entertaining, and educational.
John  Green does more than explain the Greek Crisis "which has pushed the Greek government close to defaulting on its loans, the reasons why the Euro zone and the IMF are desperately trying to bail Greece out, and what the rising cost of sovereign debt means for the massive budget deficits throughout the developed world."
_____________
KISS & Stocks
(Keep It Simple Stupid)
If you don't understand a term look in up at Investopedia.com dictionary
AS ALWAYS, DO YOUR OWN RESEARCH BEFORE INVESTING!
DOUBLE CHECK ALL DATA, I MAKE MORE THAN GRAMMAR MISTAKES
_____________
| Index | Percentage | Volume |
| --- | --- | --- |
| Dow | +1.36 | Down |
| NASDQ | +1.53 | Down |
| S&P 500 | +1.44 | Down |
| Russell 2000 | +1.52 | - |
_______________
.
Technicals, Fundamentals & Analysis
Shorter Term Outlook.
day/days/week
Fifth straight rally day

. Biggest 5 day gains in many many moons is

bullish

. Overall

volume

was almost pathetically

ligh

t.

Repeat

-  Trading was, of course,  dominated by the High Frequency Traders

(HFT's) and professional trading desks . Most of this trading goes on in

dark pools

Here's

the video

from Bloomberg
Technically,

the huge 5 day move off a double bottom (prices make a low and test it – see charts on far right) is

very bullish
F

undamentally

last week -we kicked the Greek debt problem down the road. But

Greek debt - benchmark 2 year bond is selling at 26%. Is virtually impossible to adopt a massive austerity program and pay a huge 26% interest on the Greek two year bond at same time. Also China said has the inflation problem is under control -

Premier Wen. This

fueled the rally. However problems in China

this AM
The McClellan Oscillator

(

MO) chart rose to

+89.65

(above +30 somewhat overbought , above +60 overbought, above +90 OMG overbought)

This is just a fraction from OMG overbought levels.

2009 was the last time the MO reached over +100 (twice)

This began a long term bull run

. Short term  overbought = 

Bearish
$USD

The Dollar stabilized after falling for a week

. -0.06% yesterday. (

+/- 0.50 is a significant move and the dollar is usually a contrarian indicator)

Short term tend for stocks now. Will stability hold? = 

Bullish

/Neutral
Reading The Tea Leaves

- Shorter term  -OMG oversold levels will be reached in any stock rally. This put big pressure on rally to let off some steam. Repeat – Outside the HTF and Trading desks there are a bunch of normal day/swing traders who have missed the rally and are waiting to buy the first dip.
The 5 Day Bull Stampede
Long Term
weeks/months/years
Still the risk of bad European debt and our own debt crisis confronting bulls. However,

t

he silver lining investors see is low interest rates for a long time, a Fed managed US market and inflation fears diminishing in China and more time for banks in Europe cushion debt crisis.

If there is a mediocre or poor jobs number (this Friday) this could even add oil to a burning hot fire that's driving the bulls. Poor jobs = More Potential for Fed intervention and lower interest rates for a longer time.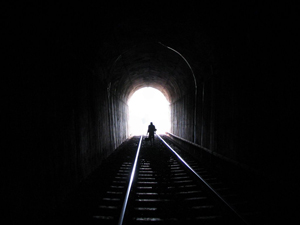 Bulls are back and they see a light at the end of a tunnel.

I

f fundamentals in earnings season are decent (starts next week and earnings should do OK) we could go on a run. We are due for a overbought mini dip, bu

t a move of this size off a double bottom in a very strong longer term bullish sign. As we switch from a temporary timeout in European debt to our own manufactured

(July 22 deadline)

debt crisis fundamentals matter.

S

till too early to raise NEUTRAL rating.
______________
Your Stock List
Paul has published to a spreadsheet of YSL #4 in the comments section of the blog.
Sorry many of you had problems with the old link
Like the past 3 YSL's is beat the S&P 500 our benchmark S&P 500 again
A new YSL is under construction. If You are on the email List send in your choices to me this week.
______________
Current Positions
Below – Investors411  hypothetical portfolio that should outperform the S&P 500.
NLY - Annaly Capital Mgt. Ultra high dividend stock - Up  over 6% in six weeks and was held through the date that allows you to collect dividend. so add another 3% to 4% profit. = +10%
IMAX - Mea Culpa – As expected IMAX and 3D hit a major home run with the new Transformer's movie over the weekend and I did NOT buy stock for Investors411 portfolio last Weekend. I would have sold IMAX into the Harry Potter movie July 15th.
Paul has published in the comments section (last week) some potential high growth buys
Short term strategy is to short overbought stocks. Bought 1/2 position in TZA near close Friday at 33.00.  MO closed at 89, just one point away from OMG oversold. Will sell quickly for a small gain.
Longer Term Strategy The 5 bulls is a major signal and there are many who missed the rally waiting to pile on.  We're in NEUTRAL, but a possible positive senerio has appeared (see above)
Disclosure - I own NLY &  a group of dividend stocks which I have used some short ETF's to protect. (I've cut back on short ETF's) – I buy all stocks mentioned in the hypothetical Investors411 portfolio.
I very much like the position of going long High Growth Stocks (week to months and on dips) and/or longer term dividend plays – yet holding some sort of protection (preferably a Puts over a short term ETF that shorts) in case of sudden meltdowns.
_________________
Look for an enlightened Paul's Corner every Tuesday & Thursday and the always informative comments section every day.
Paul is on break for a couple weeks, check Comments Section for a few weekly updates.
_________________
Longer Term Outlook
NEUTRAL
AS ALWAYS, DO YOUR OWN RESEARCH BEFORE INVESTING
ALL TRADING INVOLVES RISK AND POTENTIAL LOSS OF PRINCIPLE