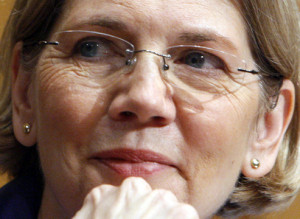 Elizabeth Warren
Fireworks Again
23 Comments yesterday. WOW. You tied a record. Most on politics. It ended at midnight with Yankee Bob on Fascism. You can scroll down to the bottom HERE to read them all. Some strong opinions, and let's try to be civil.
I told Jim J I would publish his list of candidates to donate to Monday or Tuesday. You can be sure Tea Party candidate that JS (not me) called a "Whack Job." will not be on it.
Elizabeth Warren
Bravo Elizabeth Warren has been chosen by Obama to set up the Consumer Protection Agency and start running it. The Right Appointment at the Right Time editorial by Simon Johnson.
Poverty Rate Rises
Poverty is on rise. Republican response to their fellow Americans "Let Them Eat Cake" or repeal all of health care. There are many parts of the health care bill I oppose, but repealing the whole thing is just wrong. More on the poverty rate in the US declining for a decade – The Lost Decade from WSJ
Back in 2008 Investors411 warned that the economic meltdown was "far, far, far, far, far, worse" than what people expected. One forecast you hate to have come true.
Digging In Heals
You may think of him as Darth Vader (Democrats – Larry Summers and Chris Dodd constantly compete for this title) But when he speaks its usually policy. Larry Summers – "Maintaining tax cuts for top wage-earners should take a back seat to other more pressing measures, White House economic advisor Larry Summers said, in a signal the administration could be digging in its heels on the issue. "  From CNBC – All right Larry – something positive. Darth Vader title goes to Senator Chris Dodd for now.
KISS & Stocks (Keep It Simple Stupid)
If you don't understand a term look in up at Investopedia.com dictionary
AS ALWAYS, DO YOUR OWN RESEARCH BEFORE INVESTING!
Index
Percentage
Volume
Dow

+0.21%

dow

n

NASDQ

+0.08%

down

S&P

-0.04%

flat
Russell 2000

-0.72%

-
-
Technicals, Fundamentals & Analysis
Investors411 record – 5 years of beating benchmark S&P 500
Mantra for September - "The Black Box/High Frequency Traders BB/HFT control the majority of trades. Jim Cramer -"BB/HFT make up 80% of trades."
Term for the Day – Baltic Dry Index – From Investopedia
"A shipping and trade index created by the London-based Baltic Exchange that measures changes in the cost to transport raw materials such as metals, grains and fossil fuels by sea. The Baltic Exchange directly contacts shipping brokers to assess price levels for a given route, product to transport and time to delivery (speed)
Changes in the Baltic Dry Index can give investors insight into global supply and demand trends. This change is often considered a leading indicator of future economic growth (if the index is rising) or contraction (index is falling) because the goods shipped are raw, pre-production material, which is typically an area with very low levels of speculation."
US Markets – It's a ghost town out there as volume remains pitifully weak.
This is the third Friday of the month when options expire. Almost always this day lacks technical significance unless a major fundamental surprise occurs.
Significant Indexes
The Dollar (USD) [

Anything daily price move over +/- 0.50 is significant. Dollar moves inversely to stocks

] The dollar, fell  -0.31% yesterday.  Falling dollar trend for stocks = 

Bullish

The Baltic Dry Index (BDI) [

measures cost of world trade. Also proxy for China & emerging markets

] Fell a

-3.63%

yesterday.  The BDI does not have the immediate impact that the MO or Dollar does. Fourth down day in a row with rate of fall increasing. After 8 week bull run trend changing to bearish, but still=

Neutral

McClellan Index – (MO) [

The rough guideline is over +60 = overbought market = sell positions or short stocks, & -60 = oversold market = buy stocks.

] MO fell again to +22.38 yesterday. Note while zero is the center of this chart the 50 DMA is at 19.33 That's a support level. = NEUTRAL
Reading Tea Leaves
If the baby Bull, pictured earlier this week is going to get on its feet, this would be the time to rise.
However, it's hard to put significance on an options expiration Friday. Perhaps Monday will be the key.
Positions
The  Positions Section link to latest & former buys and sells  - These are positions I actually own
(I do manage 6 accounts that have other positions)
Current positions –  EWS (Singapore).
Same basic outlook for traders- Short term trend is bullish for stocks. If we can get @ a 100 point drop in Dow and you can tolerate risk – you could nibble
Investors – Wait for a bigger drop in MO before going long.
Also if, we get up over +60 on the MO and  the Dow/major indexes rally – that would be a selling or shorting point.
Long Term Outlook - 
CAUTIOUSLY BULLISH
AS ALWAYS, DO YOUR OWN RESEARCH BEFORE INVESTING!
DOUBLE CHECK ALL DATA, I MAKE MORE THAN GRAMMAR MISTAKES