Going Global
The Occupy Wall Street Movement has exploded globally to about 1405 locations worldwide. [OccupyTogether.net]
I did have the pleasure of spending time both Saturday and Sunday at Occupy Boston. From the street workshops I attended – a universal theme of jobs, fair taxes and financial oversight were the major themes.
Some major points.
Top 1% of Americans combined posses more wealth than the bottom 90%
400 wealthiest Americans have a greater accumulated wealth than the bottom 150 million Americans
Between 2002 and 2007, 65% of all economic gains went to the richest 1%
None of the workshops or discussions I had preached hatred of the rich, only that we needed a more balanced approach. Since the weathies 1% are making almost all the gains, 73% of Americans (Time magazine poll) favor raising taxes on the rich to help balance the budget.
_______________________
The Candidate Of Wall Street
Last election cycle Obama was the candidate who raised the most $$$ for Wall Street. This election cycle the NYT (Sunday lead story) reveled Mitt Romney as the candidate of Wall Street.
Romney

–  

$1,500,000

Obama -

$270,000
______________________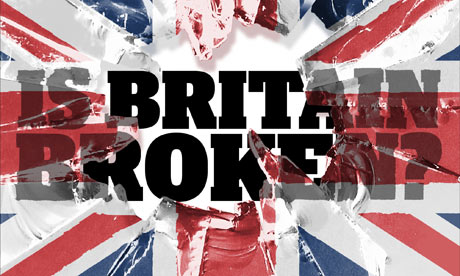 Britain's Misery
Timing is everything.
On Sept. 19th Investors411 showed what happened to Japan when they enacted budget cuts = Drop in GDP.
The lead editorial in Saturday's NYT shows the self inflicted misery in Britian when you cut the budget during difficult economic times, instead of  letting growth return first.
"Britiain's economy has barely grown since budget cuts were enacted last year."

"Highest jobless rate in 15 years."

"GDP growth last 1/4 = 0.01%"

"Cut of public sector jobs…has failed to revive business confidence."
Britain is now instituting QE (quantitative easing) programs of its own to stimulate the economy.  A move fiercely opposed by right wing politicians in the USA.
_______________________
_______________________
Stocks
Google's earnings report (season now in full swing) led markets higher Friday.  AAPL, AMZN & IBM are the 4 horsemen breaking out to leading tech and equities higher.
From England – why global market's will rally This is the global consensus  and an excellent explanation of why Bulls have control and we have "started the seasonal rally"
Major European Summit meeting on Sunday 23 rd.  Looks like officials have found a way to privatize the risk and socialize the debt. Just like they what's happening in the USA.
Our #1 forecasting tool, the

McCellan Oscillator rose to

80.23

or OMG overbought levels =

BEARISH

Our #2 forecasting tool, the

Put Call Ratio

, dropped  to 0.99 = 

NEUTRAL

For more on these two indexes click on STRATEGY section on top of page.
____________________
Reading Tea Leaves
Over the last 3 years the MO at OMG levels has always meant at least a 5% decline over the next week to month.

The ONLY time this did NOT occur was in  2009 when the Obama stimulus, 0% interest rates, TARP, and QE #1 combined to rescue equities.

The pro's that trade the PCR are NOT impressed with the MO. There PCR is

bearish
Bottom Line – It certainly looks like most stock investors/manipulators/traders are signaling a bull market in the future. An event like the 2009 rally may be getting started. Today is the confirmation day of Friday's breakout from the trading range. It's hard to ignore how oversold we are.
There is no clear buy or sell signal.
Low volume rallies are acceptable because major institutions, Pro's, hedge funds and HFT's believe financial institutions that do almost all trading  think financials and central banks have won in Europe & the US. The people/governments/taxpayers will socialize their losses.
__________________
Investors411 LONG Term Investments
Each day Paul (change setting from profile to activity) offers up to the minute commentary on the markets & YSL #5 in the Comment section of the blog. Catch his Paul's Corner every Tuesday and Thursday.
Traders – You'd like a lower MO, but at least into the European summit on the 23rd it looks like bulls may rule.  Buy the rumor and after the 23rd it may be sell the news.   The high MO is going to make rallies hard. Kudos to those who bought the last risk on trade when the Dow was 1100 points lower
Because of the OMG MO – Short term traders may be successful in shorting rallies.
Investors – Technically, a confirmation of the breakout of this summer's trading range is bullish and the long term outlook will change to CAUTIOUSLY BULLISH.
Bottom Line – The economy is devastatingly poor for the vast majority of people in western democracies, but Wall Street is again winning.
Our Hedge Investment - Theory – Technology will do better than financial sector over time. Thus hedge is set to hopefully work well in both up and down markets.
Short Financials – Investors411 will use ultra short

SKF

(opened at 78.91 – now at 72.20).

Long technology - Investors411 will use ultra long QQQ (tech's)

QLD

(opened at 81.13 – now at 89.15)

@ a 1+ % gain on this trade so far
The four horsemen – AAPL, AMZN, IBM and GOOG should outperform if we move higher. Also YSL #5
___________________
Long Term Outlook
3 to 6+ months
NEUTRAL*
*Investors411 has 5 different long term valuations - BULLISH, CAUTIOUSLY BULLISH, NEUTRAL, CAUTIOUSLY BEARISH, and BEARISH.
* Everything written in BROWN is a repeat from a previous day(s)
AS ALWAYS, DO YOUR OWN RESEARCH BEFORE INVESTING
ALL TRADING INVOLVES RISK AND POTENTIAL LOSS OF PRINCIPLE
CHECK ALL DATA, I MAKE MORE THAN GRAMER ERRORS.