What's Up? – David Patraeus on torture and Gitmo – The Supremes sing in Spanish – Californification, Is the Golden State falling into the sea? Will the US join them – Women's historic win in the Islamic state of Kuwait – Fearless market forecast.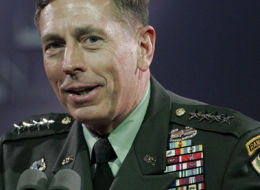 Petraeus – Huffington Post photo
Torture
Obama says – torture bad – closing Gitmo good – Right wing says NO
McCain says the same thing – Right wing says NO
Powell says same thing – Right wing says NO
Admiral Mullin (chair joint of staff & a Bush appointment) says the same - Right wing says NO
Sec. of Defense Gates says the same (another Bush appointee) says the same - Right wing says NO
Now the hero of the right wing General Petraeus says Obama is right – what will Cheney, Limbaugh and the rest of the right wing now say  about torture and closing Guantanamo Bay?
Californification
California is up to its neck in quicksand. Its one of the leading states in foreclosures and unemployment. Will the US follow California? Previous posts over the years have brought up California's two major problems
Proposition 13 - This state taxes property at what you payed for it. So for example if you payed $50,000 for a property 30 years ago and it is now worth $1,000,000, you pay only a tax on$50,000. Someone who buys property now pays today pays a whole lot more – This has lead to a serious short fall in revenues.
You need a 2/3 vote in the legislature to make any serious changes in tax structure.
In the USA we too have self interested people who want to pay almost no taxes & have to overcome a 60% filibuster in the Senate to make any serious tax changes.  Not as bad as California, but still a problem.
Want to learn more – See Nobel Prize winner Paul Krugman's editorial California - A State of Paralysis. 

Sotomayor – AP Photo
Supremes
Front page of every newspaper – An "inspired" (obviously others might disagree) choice for the Supreme Court – Sonia Sotomayor. – - Impressive legal background, compelling life story, first Hispanic ever nominated to Supreme court. For more see NYT editorial

Aseel al-Awadhi photo – Boston Globe
Women in Kuwait
4 of the recently elected 50 members of parliament in Kuwait are now women. This begins to breaks the mold of how women are treated in Muslim countries and a first for the Gulf States. This is truly a historic move
STOCKS
AS ALWAYS, DO YOUR OWN RESEARCH BEFORE INVESTING
| Index | Percentage % | Volume |
| --- | --- | --- |
| Dow | +2.37% | up |
| NASDQ | +3.45% | up |
| S&P500 | +2.63% | up |
| Russell2000 | +4.75% | - |
-
Technicals & Fundamentals

 
Forecasting what markets will do is all about how potential investors feel about the  fundamental aspects of stocks and the economy. Technicals (looking at chart patterns) gives us some idea of where the traffic signals are. It all about predicting attitude.
Yesterday the US stock markets exploded higher as volume rose. However volume was below average and below the down days of both Wed. & Thur. of  last week. While the price move is encouraging and explosive, what natural for a sustained rally is increasing above average volume. This show buyers or potential investors are not moving back into stocks.
Yesterday is certainly not a bad day and it may be the start of another leg higher. However for right now it is a move from near the bottom of the consolidation pattern we've been in for the last three + weeks to near the top. Therefore, no big green light till volume confirms a breakout.
One interesting pattern is developing – The first trading day of each week recently shown a  a significant move higher and the rest of the week has given up those gains.
Good consumer confidence numbers were said to be the fundamental behind the market move. Never seen consumer confidence boost the markets this much. Very suspicious over lack of volume.
News this AM – GM bondholders say no and it looks like GM will go into bankruptcy.
XLF - The ETF that tracks financials (mostly shadow banks ) rose +3.26% . This index closed at 12.04. As stated in past updates for the last 3 weeks financials have been trading between @ 13+ and @11+ (more specifically support at 11.33 and resistance at 13.08) Any close above or below these support of resistance levels would turn confirm a longer term trend for bull or bears.
WTIC - Oil prices again closed over their $60 support level +1.26% at $62.45. Energy related stocks kept the rest of the US markets from loosing more ground. As stated before – Higher oil prices are an indication of economic recovery, but also hurt that recovery because it means energy prices will rise.
Reading The Tea Leaves - Yesterday we moved up within the consolidation range. (see above or chart of SPX) There has yet to be any breakout in any US or world indexes.(except Brazil) The formerly leading Financials (shadow banks) are now a bit behind the major US indexes. The NASDQ (techs) seems in the lead.
Positions - (See positions section of blog for more)
 EWZ - sure looks like it was a mistake to take our substantial profits (+26) in Brazil (EWZ) Brazil reached a new closing high yesterday. As stated Thursday looking for a dip (-5 to 10%) to get back in.
Inflation – GLD (gold) is one of the hedges against inflation. As recommended last week I was able to add to this position as about $93. We sold some gold at $95 earlier this year. 
There are ETF's that also will move higher if/when inflation occurs. Considering TBT  (explanation later this week), but is has way too high a price right now.
FXI – our major position here only rose

+1.24%

yesterday due to the proximity of China to the nuclear test in North Korea. 
Long Term Outlook

 
= NEUTRAL
See Changes in STRATEGY, POSITIONS, & OVERVIEW sections of blog
AS ALWAYS DO YOUR OWN RESEARCH BEFORE INVESTING !