Dubai On the Brink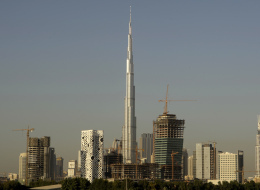 Dubai
Another capitalist bubble bursts , as one of the oil Rich Gulf Emirates countries has asked or 6 months forgiveness on debt.  Imagine all homeowners in USA were to skip 6 months of mortgage payments." Like many Western consumers during the good times, Dubai gorged on debt and borrowed too much to finance a building boom that has gone bust in the downturn. " NYT LINK
The Dubai debt  is probably between $80 & $90 billion .  Bloomberg story LINK Comparison when Lehman Brothers failed the debt was over $400 billion and a whole lot of other bigger shadow banks were in big trouble.  The US taxpayer bailed them out all the big shadow banks.  Another financial credit bubble bursting of this magnitude is obviously bad for stocks – Asian markets down  3 to 5% today.
Dubai will probably get  bailed out by Oil Rich Gulf Country capital Abu Dhabi . They have a $700 to 800 billion sovereign wealth fund. With oil above $60 they should be able to handle the crisis, and in the end Abu Dhabi and probably Saudi Arabia will gain greater control over the other 7 gulf countries.
What happens is people sell when there afraid and what they sell is those stocks, companies ETF's that they own. So All our ETF's are going to get hit . Forget the fact that China's banks have said they have no exposure to Dubai Our China ETF will get hit. So will Brazil & Gold.
The Right Afghanistan Speech…
That Obama Won't Give – Steve Clemons (The Washington Note) has an excellent speech by Tom Engelhardt . Clemons is a moderate (backs moderate Republicans like RI's former Senator Lincoln Chaffee) and if you've read his work – an influential intellectual insider not a flame thrower. For Speech See LINK
Your Comments
Check out recent comments on right side of the blog Bob S. has comments on Goldman Sachs and SE on Sarah Palin including a link to a cherry picked, but scary video.

KISS & STOCKS
Keep It Simple Stupid

For those of you whose eyes gloss over in the stock section I've tried to KISS it today, but I left a little in for those who want the deeper analysis

AS ALWAYS, DO YOUR OWN RESEARCH BEFORE INVESTING!
| Index | Percentage % | Volume |
| --- | --- | --- |
| Dow | +0.29% | down |
| NASDQ | +0.32% | down |
| S&P500 | +0.45% | down |
| Russell2000 | -0.07% | - |
Investors411 record – 4 1/2 years of beating benchmark S&P 500
(see results for last 1/2 year – click  6/25 & scroll down)
Brown

= repeat statements

Green

= usually bullish statements

Red

= Usually bearish statements
Technicals, Fundamentals & Analysis
Dubai news is trumping Black Friday today on CNBC – the financial channel this AM.
The dollar is going to explode higher and oil lower.  Stocks are set for at least a 2+% fall at the open.  The real question is what happens on Monday after we see US stocks fall perhaps 3% today.  The Dubai crisis will clearly take time to see just how extensive the fall out will be.  Although much smaller than the US debt meltdown last fall we don't know the extent of the damage.
When investors don't know they sell.
Now going to get a bit more technical
If you don't understand a term look in up at Investopedia.com dictionary LINK
——–
Significant forecasting tools/Indexes for stock markets
(Besides #1 Volume & #2 Reaction to News)
BDI - The Baltic Dry Index measures the flow of goods by price (world trade) .
The BDI has broken out to new yearly high
The BDI fell -115 points yesterday and closed at 4340. The up 16 days in a row streak has been broken. Technically  the BDI broke out through its major resistance level 4291 (this year's high)  The BDI has rallied about 2100 points since late September. Now, 5 down days in a row. through the former resistance and now support level.
What it means – Long term we created a higher high on the chart = Bullish. Short term we are on the way down = Bearish The BDI is far more useful as a long term indicator of not only world trade, but specifically China and growing emerging markets.

——-

The Dollar is currently the #1 forecasting tool .
$USD - Check out the 6 month chart (to the left) or a multi year chart of the US dollar of the US dollar.
Mantra – Dollar up = US stocks down & Dollar down = US stocks up
US dollar fell a HUGE -1.17% Wednesday. The dollar closed at $74.24 . The $75.00 support level crashed and burned. The Dubai crisis is going send money back into the dollar and out of the stock market.

——-
$NYMO The NY Stock Exchange McClellan (EOD) Index measures how much the NYSE is oversold or overbought .
The index closed at +16.74 This is a Slightly Overbought Position – stocks are neither oversold or overbought in the short term.

Oversold conditions (@ -60) = buy, Overbought positions (@+60) = sell
Positions
The  Positions Section (top of blog) to see all the latest buys and sells
I did get a chance to do some editing in the Positions Section of the blog. ( Note 2 added positions)
Probably going to take some profits today (sell 1/3+ positions) in FXI, EWZ, GLD & all of DGP. Hopefully, will get a chance to buy back into these positions when the McClellan Index gets oversold.
Remember, the record shows over the years I'm a much better ETF (stock) picker than market timer . It's easier to identify a long term mega trend and harder to time it exactly. Events like Dubai are, for me, unpredictable.

If you are a long term investor you may just want to hold onto positions.

Long Term Outlook

=

CAUTIOUSLY BULLISH/

NEUTRAL



See Changes in STRATEGY, POSITIONS, & OVERVIEW sections of blog
AS ALWAYS DO YOUR OWN RESEARCH BEFORE INVESTING!