Iraq Fireworks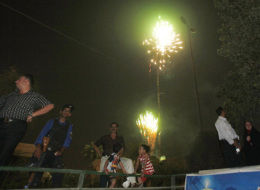 US troops are leaving Iraq cities today. Last night there was a different kind of fireworks in the skies in Iraq. (Huffington Post photo)
Here's one big problem – The fascist government in Iran is a major backer of their fellow Shia in Iraq. This includes Sadr who fought US occupation and immediately recognized Ahmadinejad as President. Reasonable to predict the "Supreme Leader" in Iran will try to have the same fascist and militant influence in Iraq as they do over terrorist groups Hamas and Hezbollah .
Iran

(week 3 )



Nico Pitney's blog at the Huffington Post has broke and provided more info than any other US news outlet . here
Elections were certified by Supreme Leader's government. More, but smaller (in thousands not 10′s of thousands+) demonstrations and increasing arrests. Iranian protesters are shouting Allah Acbar on their rooftops every night in defiance.
Climate Change/Environmental Legislation
Willing to bet that 75% of America's population has no idea that this legislation is working its way through Congress. Yesterday Investors411 went over one reason why this legislation is important – to combat global warming . Let's go over one more.
#2 Pollution
Close the garage door, turn on the car engine, open the car windows, go to sleep and you don't wake up. Pollution kills
We are a carbon based economy and this has had a huge positive economic impact. But the cumulative effect of growing population and increasing pollutants has turned many Chinese cities days into nights where cars have to drive around with headlights on and use windshield wipers to view the road (massive pollution mostly from coal). Simply put, pollution kills by everything from cancer to emphysema.  Trillions in health care costs could be saved and life expectancy would grow with less pollution.
Realism is needed here . Carbon based energy is very efficient and transitioning to alternatives is going to take many decades.
Chevron has "human energy" ads that proclaims we are going to need to work on ways of creating new sources of energy – wind, solar, geothermal, natural gas and oil. They're right. You simply can't just shut down oil exploration without devastating the world's economic structure. But we can take some concrete steps to more environmentally friendly solutions.
(to be continued)
STOCKS
AS ALWAYS, DO YOUR OWN RESEARCH BEFORE INVESTING
| Index | Percentage % | Volume |
| --- | --- | --- |
| Dow | +1.08% | down |
| NASDQ | +0.32 % | down |
| S&P500 | +0.91% | down |
| Russell2000 | -0.51% | - |
-
Your Market Questions

(part 1)



Thanks for all the public and private comments on how well Investors411 did in the first 1/2 of the year .
See Positions section & last Thursday's update . (click on calendar) The major question is will we do as well in the first 1/2 of the year in the 2nd 1/2. Also, a general worry over the long term viability of stocks and the economy .
These questions are  outlined and addressed  in the Strategy and Overview sections of blog. Most of those sections were first introduced at the beginning of the year, then added to a few months ago. Little has changed.
The long term economic problem is the huge hole that was dug by removing the regulations on capitalism and letting greed run wild.  When it takes decades (especially the last one) to dig an economic hole, you don't climb out of it overnight.
What's happened is most savvy investors realizes that we almost had a complete world wide financial collapse last September and it now looks like we will survive. The major problems is getting banks to make loans, keeping loans affordable, and fixing growing unemployment.  Fixing these now could have long term negative impact.
China, India, Brazil simply have better balance sheets than the USA and in the case of Brazil more natural resources. They also did not did deep holes.
If we don't develop alternative energy we will be stuck in a downward energy spiral forever. Cheap oil (the kind that bubbles out of the ground) is a finite commodity. Any recovery is going to be accompanied by rising oil prices.
Will the second half be as good as the first? I doubt it. Our core holdings should outperform, and if stocks do go higher in the USA our ETF's should do even better . Investors411 biggest mistake is not being disciplined enough in buying dips.
(More later)
Significant forecasting tools/Indexes for stock markets
Note - Repeated statements in brown. Added the VIX back as a prediction tool .

BDI - The Baltic Dry Index measures the flow of goods (world trade) . If trade is diminishing through out the world then a worldwide recovery is in big trouble. BDI started back up yesterday Long term Bullish although consolidating right now.
$USD - The Dollar fell-0.72% Friday and -0 0.04% yesterday. Any move over 0.50 is significant. The strong inverse correlation between the dollar and stocks has existed for many moons. Neutral – we are in a consolidating pattern.
Long term momentum for dollar is bearish. Short term  mo is neutral, but we are closer to a bottom side breakdown than an upside breakout. Any breakout or breakdown would be significant.

VIX – Measures Volatility in S&P 500. Notice this chart is in almost a straight line down.  The less volatility means the better investors are feeling. Yesterday the VIX fell to the same level it was when Lehman Brothers collapsed and markets exploded to the downside.  Stocks still have not reached the level they were when Lehman collapsed. Long term Bullish for stocks
NB – The above are secondary indicators. Our mantra has always been Volume is the #1 forecasting tool – Right now volume is not giving any clear long term signal.

Reading the Tea Leaves
.
This weeks fearless forecast – A rally, but one that does not get to new highs. Yesterday we had a mild to moderate rally in 3 of the 4 major indexes. Small caps(Russell2000) lost ground, but this is probably due to the annual rebalancing where some stocks are added and others kicked out of the index.
Short term – Volume dropped and markets rallied – you like stocks to go up, but when volume drops in a rally a reversal is usually around the corner.

Long Term Outlook

=

NEUTRAL



See Changes in STRATEGY, POSITIONS, & OVERVIEW sections of blog
AS ALWAYS DO YOUR OWN RESEARCH BEFORE INVESTING