Teddy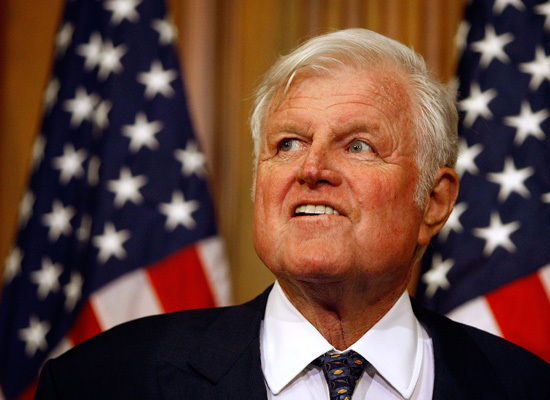 Teddy Kennedy he Liberal Lion of the Senate died. You have no idea how much legislation he was responsible for in helping the poor, and those in need. In 1969 he was the first to introduce universal health care.  BBC editorial LINK
"Near universal is the view that he was Washington's most influential lawmaker of the past 50 years, which is all the more remarkable given that he was such a polarizing politician.
Civil rights. Disability rights. The minimum wage. Immigration. Education. Campaign finance reform. And his signature issue, healthcare."
Without Kennedy's early support Obama would NOT be president. Will Obama support a health care plan that would make Teddy proud.
Lies of Mass Destruction
Why do we believe in the lies, even when we know the truth ? Remember the Saddam had  WMD's and was behind 911 lie. 73% of Americans still believed the later in 2004. Who knows how many still believe it today.
In psychology its called cognitive dissonance – When you're confronted with the truth that contradicts your previously held belief you fall back on the emotional attachment to that belief. You react defensively, ignore the truth, seek out only information that confirms your belief or discredit the source. MIT study LINK
The exact same thing is happening with all the  misinformation and screamed lies on the public health care.  Newsweek's Sharon Begley explains why this occured with health care. LINK

Factcheck.org is always a great LINK

STOCKS
AS ALWAYS, DO YOUR OWN RESEARCH BEFORE INVESTING!
| Index | Percentage % | Volume |
| --- | --- | --- |
| Dow | +0.32% | down |
| NASDQ | +0.31% | down |
| S&P500 | +0.24% | down |
| Russell2000 | +0.51% | - |
Investors411 record – 4 1/2 years of beating benchmark S&P 500
(see results for last 1/2 year – click  6/25 & scroll down)
Brown

= repeat statements

Green

= usually bullish statements

Red

= Usually bearish statements
Technicals and Fundamentals
This is a market that is overbought and ready to reverse itself. The Bernanke news & the second month in a row of increased housing prices in the USA should have produced a bigger rally. Even oil prices cooperated and dropped -3.12% without the dollar rising. All this good news produced a meager weak volume rally on Wall Street. How markets react to news out #2 forecasting tool (behind volume).
Financials are the key and it sure looks like and dip should be bought into.  The fact that housing prices have rallied two months in a row starts a trend. One month could be a fluke, but the second month gives you confirmation. Who is the biggest owner of homes outside of individuals? – Banks -  Yet another reason to invest in this sector.
——–
Significant forecasting tools/Indexes for stock markets
BDI - The Baltic Dry Index measures the flow of goods by price (world trade) It looks like we could be forming another lower high and that would reinforce the mid term bearish pattern .  The BDI fell - 49 on yesterday. Unfortunately, we have created a lower low that confirms both the mid term trend . The mid term trend since early July is clearly bearish, with a series of lower lows and lower highs. @ 2298 is a major area of support and the BDI has fallen since early June from 4291 to 2468.  This is just 80 points away from a major support level.
In a nut shell the BDI is
short term

-

Bearish pattern




mid term

- 

Bearish pattern

long term

- Bullish pattern
Bottom Line – Mid term trend is not good for world markets, especially countries that rely on exports.  This is why countries that rely on exports are NOT now doing as well as the USA.
While this index does not have as immediate impact on stocks, as the Dollar does, it is very significant to long term worldwide economics.

——-

$USD - Check out the 6 month chart (to the left) or a multi year chart of the US dollar of the US dollar.
The dollar was unchanged -0.01 % yesterday and,  what started out as a rally for stocks pulled back into modest gains . The Dollar is in a range between $79.5 and $77.5 . A breakout to either side will seriously impact stocks. Dollar closed at $78.24. Its  major support level is @$77.5

Mantra – Dollar up = US stocks down & Dollar down = US stocks up
A gradual reduction in the price of the dollar is part of the solution to global worldwide recession
This is the index to watch because its impact is immediate.
Positions
The whole Positions Section has been revised (Click on "Positions" at top of blog). Check it out
Because of the breakdown of the BDI (world trade) & the bullish trend in financials (see last few posts) Investors411 is cutting investments in foreign countries and building investments in financials.  ETF's in India,  & Singapore ETF's have been sold. Taking profits in EWY (S. Korea)(see positions)
Have added a 5% position in XLF (financials) late last week.(see positions) Looking to "buy the dips" and build on this.
Your Comments
Paul R has a very important comment (see right hand side of blog.) There are 3 ETF's that track financial stocks XLF, (tracks the financial sector) UYG (2X financials) & FAS (3X financials)
XLF is for the conservative investor. To trade UGY you're taking a bigger risk and FAS is even a greater risk. Most people who trade these ETF's are day traders or swing traders (day traders who are willing to hold a position for over a day) I do not often mention my personal trades in these because most of you are longer term investors.

First you have to have the time to do this. When I'm involved in trading UGY or FAS I have CNBC (the financial channel on as background while I work) You must have a clear defined entrance and exit strategy.
Here's mine – I usually wait for FAS to fall @5+% on a technical pullback – there's no earth shattering bad financial news. Sometimes I wait for a pause in the rally.

I look at the technicals – the support resistance levels.  Example – A support level breaks and there is panic selling – then you buy.


I make the trade and set a @5 to 7% stop/loss (If you don't know what a stop/loss order is you should NOT be making this trade)

I set an amount that I will sell at in advance. Usually a 7 to 10% gain.
FAS chart LINK – As you can see a 5 to 10% gain/loss in FAS is common over a few days.
Long Term Outlook

=

CAUTIOUSLY BULLISH



See Changes in STRATEGY, POSITIONS, & OVERVIEW sections of blog
AS ALWAYS DO YOUR OWN RESEARCH BEFORE INVESTING!