Investors411 record – 4 1/2 years of beating benchmark S&P 500
Michael Jackson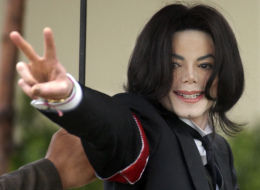 Photo – Huffington Post
Jackson's memorial service ("a variety show with a coffin") was carried by 19 networks and seen by 31.1 million viewers. Chris Hedge's – The Man in The Mirror editorial has an enlightening view of American culture it begins like this.
"I n celebrity culture we destroy what we worship. The commercial exploitation of Michael Jackson's death was orchestrated by the corporate forces that rendered Jackson insane. Jackson, robbed of his childhood and surrounded by vultures that preyed on his fears and weaknesses, was so consumed by self-loathing he carved his African-American face into an ever-changing Caucasian death mask and hid his apparent pedophilia behind a Peter Pan illusion of eternal childhood. He could not disentangle his public and his private self. He became a commodity, a product, one to be sold, used and manipulated. He was infected by the moral nihilism and personal disintegration that are at the core of our corporate culture. And his fantasies of eternal youth, delusions of majesty, and desperate, disfiguring quests for physical transformation were expressions of our own yearning. He was a reflection of us in the extreme…"
You can read the whole editorial here
Chris Hedges is author of "Empire of Illusion: The End of Literacy and the Triumph of  Spectacle."
Iran
Friday could be an important day in the country that now has more jailed journalist than any other county. Rafsanjani , who is not an Ahmadinejad backer, is leading Friday prayers and the opposition has promised to flood the area. Story here
Huffington Post's Nico Pitn ey still #1 in coverage here
STOCKS
AS ALWAYS, DO YOUR OWN RESEARCH BEFORE INVESTING!
| Index | Percentage % | Volume |
| --- | --- | --- |
| Dow | +2.27% | up |
| NASDQ | +2.12 % | up |
| S&P500 | +2.49% | up |
| Russell2000 | +2.56% | - |
Investors411 record – 4 1/2 years of beating benchmark S&P 500
(see results for last 1/2 year – click  6/25 & scroll down)
Technicals and Fundamentals
Note - Repeated statements in brown.
Markets staged a big time rally and volume increased, but it was still not above average. The major technical question becomes can we break the series of lower highs and lower lows? We have held and formed a strong support level at SPX 875 . The S&P closed at 901 and we need to close above @ 930 to take out the lower high or major resistance level.

After falling, as predicted, to the S&P 875 support level, the bulls have reinforced the barricades and held their position for the last two days.  The longer they hold out the stronger the bulls position becomes. Here come the bulls led by financial stocks that have been soaping up low interest money from the Fed and TARP programs. Loans are not pouring out of these institutions to struggling homeowners, but they are making a killing on the loans they do make, the government bonds and derivatives they sell/insure.  Not having mark to market accounting allows them  special accounting methods other institutions do not have.

Financials are probably going to continue their charmed existence, because t he Obama administration & the Fed has deemed the big ones too big to fail and they keep kicking the can down the road on any major fix of the problems that created the economic meltdown. Financials led yesterday's rally  XLF up +6.4% – Increased, above average volume indicates Bulls Rule – rally to continue in financials.
Mea Culpa – The amount of the rally in financials has caught me a little off guard. I thought all the traders were already long this sector and the rally would be about 2 to 3+% not 6+%.

Earnings season is off to a good start. But technically markets were oversold and the 875 level held. Fundamentally, Still looking for Intel (reports after closing) to set the tone.
Intel's earnings report (after the bell today) is still the key to any breakout. US markets have started to move higher on good news  So momentum is with the bulls

Significant forecasting tools/Indexes for stock markets
BDI - The Baltic Dry Index measures the flow of goods (world trade) . BDI fell for the 9th day in a row.  However, the rate of decline has slowed dramatically & more each day  This chart works a little different from most other charts in that it is a lot smoother and less volatile. The fact that the decline rate has dramatically narrowed is a positive for bulls
Unfortunately, over the last six weeks we have a series of lower high, lower lows, and a broken support level. That's positive for bears. Over the last six months we have dramatically risen off the lows – Long term Positive for bulls
In a nut shell the BDI is
short term

-

seems to be turning bullish

(emphasis on seems )


mid term

–

clear bearish pattern

long term

- bullish pattern

$USD - The Dollar is still comfortably in its in its 5+ week long consolidation pattern between $79+ and 81+.
—–
Fearless Forecast – So expect a rise with some financial stocks reporting early in the week and that rally to get tempered later in the week
Our Positions
The Hedge – Still little change in overall position QLD -5.11% and SDS +5.89% = a gain of +0.79% This trade may take a months to reach a 5% to 10% gain/loss.
Alternative Energy – GEX/PBW – Now completely out of this sector and looking for a way back in or a buy the dip opportunity. There are several fundamental factors going on here. Most importantly it looks like oil prices are moving lower and that will hurt alternative energy.  If we have a significant summer rally oil prices and alternative energy could rise and we will miss out on some potential gains.
Financials - For traders (not investors) there is potential buy the dip opportunities in the ultra long ETF's not XLF but UYG (@2x XLF) and FAS (@3x ELF)
Foreign ETF's – Still would like to see a bit more of a dip to buy more FXI, EWZ & IFN . For a short time, momentum may swing back to US equities, but the long term trend is clearly with these growing economies.
Long Term Outlook

=

NEUTRAL



See Changes in STRATEGY, POSITIONS, & OVERVIEW sections of blog
AS ALWAYS DO YOUR OWN RESEARCH BEFORE INVESTING!