WHAT'S UP – A Republican defection: Republican's embrace the far right and shrink – Specter & Sebelius; First US death from "Swine" flu – Your comments- "The Critic" and Abby Gold. GDP comes in worse than expected for 1st 1/4 = -6.1% ; Shadow Baks stocks slipping: Trade (BDI) between countries start to slip again – swine flu?

Senator Arlen Specter -Alex Wong/Getty Images
Republican Defections
Republican Senator Arlen Specter (PA) is switching from Rep. to Dem. Here is some Links – WaPo , & Politico
BottomLine – It's not just Specter and the fact that he brings the Democratic Party closer to a veto proof 60 vote majority. (It is now 59 votes and Franken (Dem) looks like he will win in MN.)
What's happening is as the Republican's become more extreme (embracing the far right – example Limbaugh) they are loosing supporters.  Most polls show Democrats gaining slightly or remaining flat. Independents are the group that's growing the fastest . Yahoo story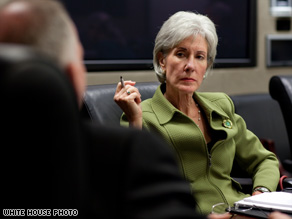 Kathlene Sebelius
When it Rains it Pours – Republicans
Republicans voted against putting in $900 million for flu pandemic protection into the stimulus package. Big mistake. Obama now is proposing a $1.5 billion supplemental to handle the growing crisis.
Republicans have also blocked the nomination of KA Dem. governor Kathlene Sebelius to the top health position and a whole lot of other positions in heath care remain unfilled. So we have a potential major crisis and the party is caught with its pants down. Tides go in and out. But, the tide is certainly going out for Republicans now. Sebelius finally gets the job CNN story link
First US Death from Swine Flu
A 23 month old child in Texas has died from the flu – The first US casualty. NYC has the most cases and the disease is being transmitted by humans. Link to CNBC story on Flu
Both "The Critic" (Who is traveling from a foreign country to the USA) and Abby Gold have very relevant  comments.  They stress the over hype of the media and plummeting pork prices. See comments section on right side of blog. (photo credit – AP)
STOCKS
AS ALWAYS, DO YOUR OWN RESEARCH BEFORE INVESTING
| Index | Percentage % | Volume |
| --- | --- | --- |
| Dow | -0.10% | up |
| NASDQ | -0.33% | down |
| S&P500 | -0.27% | down |
| Russell2000 | +0.70% | - |
Technicals & Fundamentals
USA GDP Numbers for 1st 1/4 = -6.1% (breaking news 8:30 EST) Worse than expected number. But this is not a forward looking statistic. There was better than expected consumer spending numbers in this report.
No real movement yesterday in US equities. The fact that US indexes were flat despite the possible flu pandemic news is bullish for stocks .
Possible Flu Pandemic (See yesterday's Updates)
From yesterday – As always – don't make huge massive moves (all in all out) – But  both FXI and EWZ have had a great run over the last six weeks and some protection seems prudent .
If the outbreak continues to grow - Link to what happens to Oil prices and Commodities
———-
XLF - The ETF that tracks financials (mostly shadow banks ) rose -3.09 % Friday in decreased volume .  Financials have lead this rally and if they  collapse so will almost all other sectors (see Positions section of blog on XLF)
The XFL is consolidating between @ 9.4 & 11.3. XFL closed at 10.43 .   9.4 and 11.3 is the support  & resistance levels all Wall Street is watching.
BDI – The Baltic Dry Index (measures trade) has started back down again after establishing a technically bearish lower high. BDI down - 2.67 % (see chart at side of blog) Too early to call a trend, but troubling.
Fed meets today . Release of interest statement at 2:15 EST today – No dramatic changes expected.
Long Term Outlook
=
CAUTIOUSLY BEARIS
H
See Changes in STRATEGY, POSITIONS, & OVERVIEW sections of blog
AS ALWAYS DO YOUR OWN RESEARCH BEFORE INVESTIN G !