THE BIG TAKEOVER- "The global economic crisis isn't about money, its about power. How Wall Street insiders are using the bailout to stage a revolution." The growing tent cities across America – a slide show.  Also an overview or reading the tea leaves of the US economy and the stock market – a longer term view. 

(photo from Rolling Stone)
The Big Takeover
Matt Taibbi piece in the Rolling Stone is a must read for anyone who wants to understand why your lives will change dramatically over the next decade. 
First you have to check out the comments by Robert Sadinsky on the right hand side of the blog. In passionate colorful terms he offers in a much shorter vision/comments on Taibbi's Big Takeover.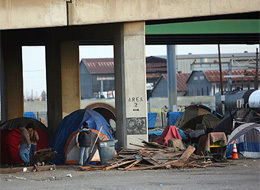 (NYT photo)
Tent Cities of California
As the unemployment rate keeps growing, tent cities are spring up around the country. The NYT has a slide show of this growing problem in hard hit California.  
Even supposedly healthy tech giant IBM is accelerating laying offs - another 5,000 people.
AS ALWAYS DO YOUR OWN RESEARCH BEFORE INVESTING
Stocks
-
| Index | Percentage % | Volume |
| --- | --- | --- |
| Dow | +1.17% | up |
| NASDQ | +0.82% | up |
| S&P500 | +0.95% | up |
| Russell2000 | +2.34% | - |
-
Technicals & Fundamentals
While gains were moderate volume was above average and higher. An erratic, (big swings throughout the day) but good day for bulls.
XLF the financial ETF is way out in front leading current rally. Now up over +55%.
April 2nd is when the committee meets to talk about/change  Market to Market accounting. – Stocks, especially financials should rally in front of this.  What usually happens is they sell on the news.
Reading the Longer Term Tea Leaves -
As mentioned so many times before this is not the old typical buy and hold stock market. That does not mean you can't make money.  The Big Takeover by Wall Street or Shadow Bankers should be  a major accelerant to stock prices in the short term.  
Bernanke, Geithner,Summers & Obama may talk tough (ex. AIG), but they are dumping truckloads of money all over the the individuals who Bob Sadinsky so colorfully stated "we should just let the Wall St . pros handle it? – I wouldn't let them walk my dog. They are the ones who pissed all over the floor, not my dog!"
Nevertheless stocks will rally, and the economic situation will improve. Even Dr. Doom (Nouriel Roubini) is cautiously optimistic that Geithner's toxic asset elimination plan has a chance of succeeding.
So put on your rally caps it looks like the rally may have short term legs.  GDP for this quarter may even hit a negative 8% or 9%.  But the situation will improve with the gov't stimulus and The Big Takeover. This will mean a growth in GDP from say -8.5 to perhaps  a positive GDP.  This +8.5% growth in GDP will rally stocks.
The longer term problem is the phenomenal amount of debt built up under Bush, the baking scum that built more debt by over leveraging, and the huge amount of taxpayer capital its going to take to shovel us out of this hole.
Once the initial, we've averted global economic meltdown is over, the US because of its debt and unfunded mandates will be in a poor position to grow. The same Shadow Bankers & company will be in power. Add to this, relative to other countries, we are over dependent on oil, falling behind in education and have no universal health care.
Long Term Outlook

 

= 

CAUTIOUSLY BEARISH

See Changes in STRATEGY, POSITIONS, & OVERVIEW sections of blog 
AS ALWAYS DO YOUR OWN RESEARCH BEFORE INVESTING!