Liming Nuclear Arms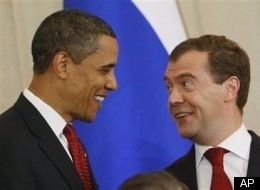 This is significant good news for the world. US and Russia agree to cut nuclear arsenals by @1/3. Today Obama was giving a commencement address at University in Moscow. Detente which was a critical part of winning the cold war is back.  Australian  press on the story here
Violent Protests in China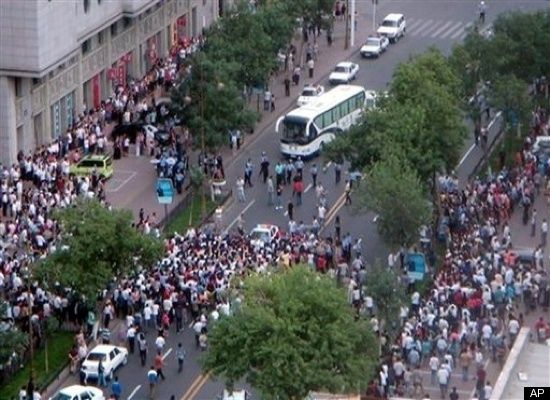 No, this is NOT Iran . Violent riots in the western Xinjiang Uyger Autonomous  region of China continue. China press puts death toll at 156. Video link here (caution more violent video)
Contrast the coverage in American media (even this blog) with China vs Ira n .
Al Jazeera has a well reasoned round table about internet reporting & bias coverage in Iran here (warning its 24 minutes)
We look at news through huge filters or blinders and unless you understand how the rest of the world see it you have almost no hope of making progress.
The Great American Bubble Machine
Mike Taibbi in The Rolling Stone has another provocative and illuminating editorial on how Goldman Sachs has been up to its eyeballs in profiting from building American economic bubbles – here
Unfortunately,  this crowd is the one that has Obama's ear on economic policy. Bob Sandisky has, as usual, a passionate response to the Taibbi article in the comments section of blog. – One quote
The Bush administration set in motion a new paradigm that basically changes the essence of America, from "We the people being endowed with inalienable right to pursuit happiness" to substituting People with Corporation. – We the Corporation.
HELP in Health Care
Nobel prize winner Paul Krugman has an excellent article on health care here
The first numbers on the cost and # of people covered in the heath care proposal came out poorly, but last week the budget office offered a much better and under reported  assessment.
The reason that this news is not getting out is the other side is spending $1.4 million dollars a day in PR against public healthcare. All of that money spent fighting this will be added to your health care bills.
STOCKS
AS ALWAYS, DO YOUR OWN RESEARCH BEFORE INVESTING
| Index | Percentage % | Volume |
| --- | --- | --- |
| Dow | +0.53% | up |
| NASDQ | -0.51 % | up |
| S&P500 | +0.26% | up |
| Russell2000 | -0.64% | - |
Investors411 record – 4 1/2 years of beating benchmark S&P 500 (see results click  6/25 & scroll down)
Technicals and Fundamentals
Markets were basically flat yesterday. Volume up but below average
The lack of volume still troubling factor. – One things for sure-money on the sidelines is staying here. Its hard to make a long term forecast with volume as a confirming factor .
The major upcoming fundamental factor is earnings season which goes into full swing next week.
The S&P resistance level of 875 is the line in the sand. If the index closes below this level, we most likely will be in for another leg(s) down. SPX at 899 .
Significant forecasting tools/Indexes for stock markets
Note - Repeated statements in brown.
These are important forecasting tolls, but secondary to volume .

BDI - The Baltic Dry Index measures the flow of goods (world trade) . BDI fell sharply again on Monday.  What's worse, is that the index broke down through its major support level at 3452 and closed at 3375 .  WARNING – This chart is more a long term indicator, but the breakdown in trade is very significant to any worldwide recovery. BEARS RULE
$USD - The Dollar rose +0,23 % yesterday This is a relatively minor amount . The strong inverse correlation between the dollar and stocks has existed for many moons. Dollar up = markets down. . Dollar closed at $80.45 and has been trading for  a month between @$81+yesterday= and $79+. So its almost in the middle of its consolidation range. Long term Bearish pattern for Dollar (bullish for stocks ) that is consolidating pattern now (neutral )
WTIC – There was a huge 4.02% drop in oil prices yesterday. 9% over last week. (see chart) Things may stabilize temporarily, because it is sitting on a major support level.  However the 5 day fall has been significant and has NOT been accompanied by a significant rise in the dollar.  What oil markets seem to be saying is demand is weak out there and the world's economic picture is less bright than traders thought. = Bearish for stocks
—–
Back to CAUTIOUSLY BEARISH outlook. This is in anticipation of a further breakdown of the BDI and S&P 500 .
NB – Volume has confirmed nothing. So confidence in above predictions is a bit shaky . However, the BDI has broken support and oil prices are plummeting.

Our Positions (For more see Positions section of Investors 411-scroll down)
The Hedge – Buying equal $ amounts of the SDS (a short) & the QLD (long). So far this trade has netted less than +0.50%. – largely because of a real bad day yesterday. The principle behind this is that the top 100 NASDQ stocks are going to outperform the S&P 500.
It does not matter which way the market moves, only that one index outperforms the other. Plan to hold this position until we have a 5 to 10% gain or loss and then sell it.
If you would like to enter this trade  "buy the dip." Wait for a day (or better two) when the S&P 500 outperforms the NASDQ (like yesterday) and then invest.

Again for more information see Postions section of blog.
Yesterday's Recommendation – Traders  – take some $ (1/3) off the table in China (FXI ).
I plan to buy back all recommended foreign ETF's – just hopefully at a lower level. Perhaps when  S&P dips to support level @875
More tomorrow

Long Term Outlook

=

CAUTIOUSLY BEARISH



See Changes in STRATEGY, POSITIONS, & OVERVIEW sections of blog
AS ALWAYS DO YOUR OWN RESEARCH BEFORE INVESTING