The "Socialist" Joker

Obama – SF Bay photo
The attempts to break up civil discourse at the Town Meetings Democrats are having to discuss health care is turning into anarchy. Encouraged by the FOX news cable channel, the right wing, and host Glenn Beck who considers Obama "a racist," mobs are trying to break up normal debates and discussions of the issues.  Latest "Violence" at Tampa Bay town hall meeting. Link here Photo below
There are also pictures of Obama with white powder and red lipstick on his face, depicting him as The "Socialist" Joker. For those too young to remember in the first half of the last century white men used to put black powder on their faces and lips to mimic black men as a vaudeville act. Needless to say this was derogatory and racist. Link to story here Photo above.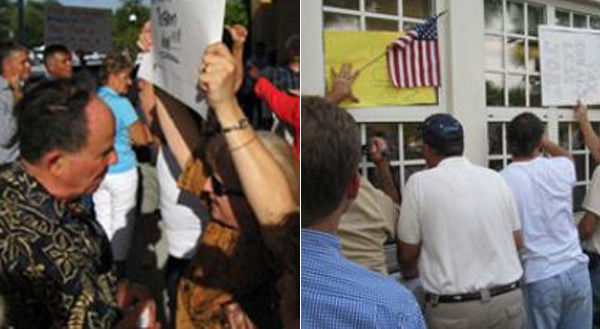 Tampa Bay mob banging on windows of meeting – Huffington Post.
Propaganda/Falsehoods – HealthCare
The estimated cost of House version of health care plan is $90 Billion a year NOT a trillion dollars a year. The proposed payment is a tax on those earning over $1,000,000 a year. The trillion dollar figure is estimated cost over 10 years. Two sources Debunking the spin
Impact of Stimulus
The NYT feature story is the impact of the stimulus package. So far @ $100 billion of the $7 80 billion has been spent. Headline – "With Jobs Data Due, Experts See Some Lift From Stimulus " Story link here
Bottom Line – If you sit back and do nothing the mob wins. The in your face yelling works unless you act.  Send some emails, write an editorial, go to a Town Meeting (see yesterday's blog) – Do something, anything – Make a Difference - Its your country
STOCKS
AS ALWAYS, DO YOUR OWN RESEARCH BEFORE INVESTING!
| Index | Percentage % | Volume |
| --- | --- | --- |
| Dow | -0.27% | up |
| NASDQ | -1.00 % | flat |
| S&P500 | -0.56% | up |
| Russell2000 | -1.48% | - |
Investors411 record – 4 1/2 years of beating benchmark S&P 500
(see results for last 1/2 year – click  6/25 & scroll down)
Brown

= repeat statements

Green

= usually bullish statements

Red

= Usually bearish statements
Technicals and Fundamentals
Volume is beginning to pick up and so is the downside moves in front of the unemployment data. Volume is the #1 conformation of a price move. This is a sign that we have reached a top (a bullish higher high of prices) and are due for some sort of correction. Actually long overdue for a correction,
Even though jobs are a lagging indicator in an economic recovery, these figures are very important. Waiting for results…
US employment data for July -247,000 jobs – Better than expected loss . Best monthly number since Aug. 2008.  Rate down to to 9.4% from 9.5% – Markets rally on news.
This paragraph was written last – Rally in stocks

Significant forecasting tools/Indexes for stock markets
BDI - The Baltic Dry Index measures the flow of goods (world trade) It looks like we could be forming another lower high and that would reinforce the mid term bearish pattern . 2975 is the major support level and the BDI closed at 3051 down last six days in a row. As long as we hang in above 2975 stocks should do well.  This chart (click on BDI at beginning of paragraph) moves rather smoothly.
In a nut shell the BDI is
short term

–

Bears rule




mid term

- 

Bearish pattern

long term

- Bullish pattern
Warning - The BDI falling through its support level at 2975 would be very bearish. IT DID yesterday . What's worse the rate of downward momentum is accelerating BDI fell 109 points two days ago and 144 points yesterday. We broke through a major support level and the rate of change downward is accelerating = Bears Rule
Simply put - if the cost to trade is breaking down between countries, so is the amount of goods that flow between countries.  One of the greatest dangers to a worldwide economic recovery is the breakdown of buying and selling goods between countries.

$USD - The dollar rose a health +o.57% yesterday. Dollar closed at $78.00 (weighed against a market basket of other currencies)  We did establish a lower low for the dollar earlier this week.  This chart is important as a forecasting tool because there is a strong inverse correlation between the dollar and both (most) stocks and oil prices
Here's a multi year chart of the US dollar that show the line in the sand support level or its all time low below $71.00 in April to June of 2008
Dollar up usually = stocks down.
Positions
The whole Positions Section has been revised (Click on "Positions" at top of blog). Check it out
See Thursday's comments and those made earlier this week. The BDI breakdown through support and accelerating decline is a longer term BEARISH SIGN .

Long Term Outlook

=

CAUTIOUSLY BULLISH



See Changes in STRATEGY, POSITIONS, & OVERVIEW sections of blog
AS ALWAYS DO YOUR OWN RESEARCH BEFORE INVESTING!