Pakistan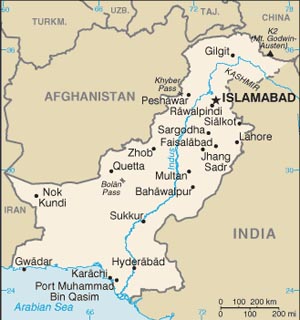 Many of you have raised public and private comments about America's desire to have a colonial empire. (see comments section of blog) I certainly wish these countries had a functioning democratic system, but it can't be forced on them and that force has proven counter productive and enormously costly for the USA. (see yesterday's enlightening Tom Friedman's editorial) LINK
One of you told me a deeply disturbing story of a Pakistani couple (two doctors) who have their green cards and just returned from visiting relatives in Pakistan. They said the situation there was rapidly deteriorating.  LINK
Pakistan should be our focus not Afghanistan .  As brought up before the fact that we spend 30 times the $ in Afghanistan we do in Pakistan is deeply troubling. If Obama goes ahead with the 3rd surge in Afghanistan that figure could grow to 40 or 50 to 1. We should be giving Pakistan's fragile democracy more economic aid and listening to the views of their moderates instead of focusing on troop surges in Afghanistan.
Instead America is consumed by war propaganda. Glenn Greenwald writing for Salon makes an excellent point about the Universality of War Propaganda LINK
STOCKS
AS ALWAYS, DO YOUR OWN RESEARCH BEFORE INVESTING!
Index

Percentage %

Volume

Dow

-

1.21%

up




NASDQ

-2.67%

up




S&P500

-2.40%

up




Russell2000

-3.51%



-
Investors411 record – 4 1/2 years of beating benchmark S&P 500
(see results for last 1/2 year – click  6/25 & scroll down)
Brown

= repeat statements

Green

= usually bullish statements

Red

= Usually bearish statements
Technicals, Fundamentals & Analysis
Please Note –

Long Term Outlook

has changed from

CAUTIOUSLY BULLISH

to

NEUTRAL
This is the first change to Long Term Outlook(downgrade) in many moons . This was done primarily on a technical basis. Both the NASDQ and the S&P 500 crashed through their major support levels (the 50 day moving average = blue line on charts at side of blog) We had an another major meltdown in above average increased volume again. This is the 3rd of 4th time within 5 weeks that volume has on a daily basis confirmed (rose significantly and was above average) a major downside price move (greater than 1%)
Longer term – volume has decreased as stocks have risen throughout the summer and fall. This is another technical sign of impending meltdown.
Markets are also not reacting positively to good news AAPL, GOOG,  AMZN , GS & others who beat expectations on TOP and Bottom line have rolled over and are trading down.  Hot stocks loosing ground on good news is the second canary in the coal mine dying.
Markets run on psychology more than anything else – especially in the short term.  Fundamentally , the situation is positive. The US lags most emerging markets, but even here more than a handful of companies now have top line growth.
The Dollar is the catalyst for this turn. Obviously it rose yesterday and this time the impact on stocks greater than the usual (@1% or less) that is approximately what stocks would have fallen with a+0.36% rise in the dollar. (see dollar analysis below)

When the Long Term Outlook is changed we often go back and forth for a while as stocks move above or below key support levels . Expect a rebound this AM.

Best Read of the Tea Leaves – I don't expect a major roll over -20+%. If/when the dollar starts moving back down stocks should go higher.  However, some sort of correction (a 5 to 10% fall – we are already at 5%) is good for markets.  Anything that goes up too far too fast creates a bubble that bursts.
Also see dollar analysis below.

——–
Significant forecasting tools/Indexes for stock markets
(Besides #1 Volume & #2 Reaction to News)
BDI - The Baltic Dry Index measures the flow of goods by price (world trade) .
The BDI is @ 30% off its high (early June) Before that it gained almost over + 630% from its all time low of 663 in Dec. of 2008 (April 2009 high of 4291 )
The BDI lost a modest -27 points yesterday and closed at 2986. 2nd day of modest losses. A higher high price on its chart pattern has been confirmed The BDI has rallied almost 900 points since late September. =  Bullish for stocks & world trade right now
——-

The Dollar is currently the #1 forecasting tool . It would be a wild guess to predict he daily moves of the dollar, but longer term fundamentals are clearly negative – the trend of a falling dollar should continue.
$USD - Check out the 6 month chart (to the left) or a multi year chart of the US dollar of the US dollar.
Mantra – Dollar up = US stocks down & Dollar down = US stocks up
US dollar rose for for the 4th straight day +0.36% The dollar closed at $76.48 .  This is above the former support – now resistance level of $76.00 . Technically - Bullish for dollar & Bearish for stocks.
The next important resistance level for the dollar is the falling 50 day moving average (blue line on chart). This is at 76.83 this AM. It's the line in the sand – Best read of the tea leaves is that it will hold. In fact, Investors411 will add to some positions  as we get close to this resistance level.
We 0.40 away from this resistance level. Mighty close.

Last year's low was around $71,(March 08 ) so there is a long way to go before the major and very crucial support level is reached . The dollar does have a support level around $74.00( a high from about a year ago – see long term chart)
Positions
The  Positions Section (top of blog) to see all the latest buys and sells
Outside the USA in Emerging Markets (especially China, & Brazil) are much better in the long run - Our problem is one of timing. We can't get a 5 to 10% dip to invest. Looks like we will get at least our 5 to 10% dip now.  Investors 411 should have much larger positions in emerging markets .
Look to add to EWZ (Brazil) and FXI (China) positions because of dip. If prices continue to fall  will nibble some more

Long Term Outlook

=

NEUTRAL



See Changes in STRATEGY, POSITIONS, & OVERVIEW sections of blog
AS ALWAYS DO YOUR OWN RESEARCH BEFORE INVESTING!