.
Money Bomb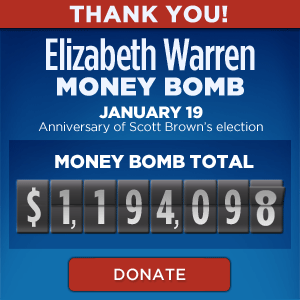 .
Thanks to any of you who came to (D) Elizabeth Warren's "Money Bomb" party at our house. All across Massachusetts the grass roots came together to donate and make calls.
Raising a million+ in one day is great, but
Here's the problem
Even though this is a phenomenal amount of $$$, her opponent has a big head start and Carl Rove is already running negative Super PAC attack adds. Click on photo or here for more.
.
******************
.
Unnatural Causes
.
.
Investors411 has spent time in recent weeks going over how countries with greater income inequality has a devastating impact on everything from trust to mental illness of the people in that country.
Dictatorships and countries run by wealthy oligarchies are even a more obvious example of income inequality having a devastating impact on populations.
,
.
They started as a documentary that formed a world wide
political action group on how inequality causes illness.
Thanks to AG for heads up on this
********************
.
Toaster Gets Toasted
As usual, the 17th Republican debate was not about substance and jobs, but negatives hyperbole and attacks.
Two candidates knew the question that was coming. Newt about his 2nd wife's allegations and Romney about his taxes.
No matter what you think about either candidate or what they did.
Newt hit a home run (video)
Romney struck out (video)
Now that Perry is out of the debate, Romney the former toaster is getting toasted.  He's flipped flopped back to "maybe" about his tax returns and perhaps for Obama in April.
What an insult to Republicans in South Carolina and Republicans everywhere. You don't have the transparency of Mitt's tax returns being made public for you to make an informed decision on voting.
Romney's father released 12 years of his tax returns and started this tradition of openness and transparency..
.
********************
.
STOCKS
.
Wall Street Bull and OWS Symbol
.
Look out. Tech giant GOOG badly missed earnings last night.
We have confirmed a higher high on the benchmark index – the S&P 500. This is a higher high on the charts and longer term its

bullish.
Our #1 technical forecasting tool, the McCellan Oscillator (MO) rose to

+56.58

.  50DMA at +2.01 (for more see  STRATEGY link at top of blog) Just below overbought territory = neutral/

BEARISH
DAX way down

0.55%

this AM (8:00 EST) and the Italian 10 year bond  full retreat for almost two weeks continues. The later is in the longer term

bullish.
Options Combination Trades

– I realize lots of this is very technical and many do not understand it. But there is a group of you who do trade options. For them – If you bought GOOG options (I mentioned it but passed on the trade because the options cost a lot) you are going to have

a huge gain

this AM because GOOG was down

9+%

in post market trading.
Longer term indicators are bullish, but it sure looks like some traders may sell today. We are in a low volume rally. This means the manipulators (central banks, HFT's and other giant sharks) are in control. Best example of this is how the Italian bond is being pushed lower.
Politics, potential trade wars, globalization are all major factors on

the long term outlook for 2012

. Will work on this over weekend. Sorry it's so slow in coming out.
Overnight Data From Europe
Germany's DAX
Italian 10 year bond
********************
.
Longer Term Outlook
3 months+
.
Still
CAUTIOUSLY BULLISH
.
AS ALWAYS, DO YOUR OWN RESEARCH BEFORE INVESTING
ALL TRADING INVOLVES RISK AND POTENTIAL LOSS OF PRINCIPLE
CHECK ALL DATA, I MAKE MORE THAN GRAMMAR  ERRORS.