_____________________
Occupy Wall Street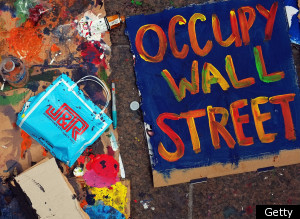 It took 9 days before NPR first mentioned them, and 12 days before CNN dared defy Wall Street and mention the growing "Occupy Wall Street movement." The Sunday NYT lead editorial was on the protestors message.
"The message — and the solutions — should be obvious to anyone who has been paying attention since the economy went into a recession that continues to sock the middle class while the rich have recovered and prospered."
More editorials from Common Dreams - Carolyn Eisenberg , Robert Reiche ,& Bernie Sanders
But youhave to love this title/editorial Paul Krugman's
_____________________
Stocks
If you don't understand a term look in up at Investopedia.com dictionary
AS ALWAYS, DO YOUR OWN RESEARCH BEFORE INVESTING!
DOUBLE CHECK ALL DATA, I MAKE MORE THAN GRAMMAR MISTAKES
| Index | Percentage | Volume |
| --- | --- | --- |
| Dow | -0.18% | down |
| NASDQ | -1.10% | down |
| S&P 500 | -0.82% | down |
| Russell 2000 | -2.16% | |
_______________________
Market Analysis
Focus on Technicals, Fundamentals & HFT's
"There Have ALWAYS been manipulators in Wall Street"

(Comment last week by

JS

) – How True. The job of Investors411 is to identify, quantify the manipulation/manipulators and then take appropriate action.
Since Monday when Investors411 stated there was the potential for a RISK ON trade the Dow has moved

+700 points highe

r.
That's a bigger move in one direction than the Dow has made in most months over the past decade. - Most of the magnitude of this move is due to HFT (manipulators)  that make up 60+% of trading.
Of course there are other manipulators (biggest – Our Fed) and fundamentals matter. Today -There will be rumors, promises, earnings reports, and a critical vote in Slovakia

that may move markets today.
Trend - 

Kicking the can down the road on Greece is mana from heaven for HFT's who can use every news items to execute short squeezes, pump and dumps or catching institutional traders with losing long positions. An extremely strong correlation exists between European and US markets.
Long Term Stock Trend

- 

The benchmark S&P 500 (see chart on right side of blog) has spent the entire months of August and September trading below the 50 & 200 day price moving average (red and blue lines on chart) – Any credible analyst will tell you that's a very bearish sign.

We are approaching the 50 day moving average (see chart of S&P 500 on right side of blog) and a breakout above it would bullish
Investors411 – Forecasting Tools
The PCR ended last week at

+1.16

(

Roughly - above 1.25 is getting Bullish and below 0.80 is getting Bearish. 1.00 = same amount of puts and calls. Over last two years the highest for PCR is @1.50 and lowest @0.60 - anything approach these levels shows change likely For more information on PCR

LINK) = 

Neutral
The McClellan Oscillator (#1 forecasting tool)
(MO) fell  to

+9.87

(

Rough estimates =-30 somewhat oversold, -60 oversold, -90 OMG oversold & +30 somewhat overbought, +60 overbought and +90 OMG overbought)

= 

Neutral
________________________
Reading The Tea Leaves
Short Term Outlook
days, week+
Both Forecasting Tools are. Neutral.  But as I mentioned in comment section last Wednesday,

the momentum is with the bulls

.

The 700 point  Dow move could break an important technical barrier on the benchmark S&P 500 (50 DMA) early this week and that's

bullish.
The MO is nowhere near oversold so there is room to rally – especially if the above mentioned resistance level falls.
Financials (ETF = XLF) are the sector to watch. They are at the heart of the European crisis and what ails the USA. Long term their chart is bearish. Shorter term there is a series of lower highs and lows on the chart = bearish. US stocks can NOT sustain a rally can without this group.
_________________________
Current Positions
Below – Investors411  hypothetical portfolio that should outperform the S&P 500
See POSITIONS Section of blog for more on YSL#5.(scroll to bottom)
Traders
There is lots of room for the bulls momentum to carry us higher. Each time the MO gets down to @ -80 there's @ a 90% historical probability of stocks moving at least 5% higher in the next week or two  (In this case we made it to -58 and had a big meltdown early the next day that would have brought the MO below that figure)
We've reached the 5% bounce, and still have a low MO (+9.87) That's good news for bulls
KUDOS – To everyone who had the guts to go long on last Monday's RISK ON trade. You scored big time. Remember as the MO moves higher into oversold territory nobody ever went broke taking some profits. Several of you sent in emails that you were going long.
Investors
We'll continue to take a more cautious approach. More tomorrow.
Our Hedge Investment - Theory – Technology will do better than financial sector over time. Going both  long and short. Hopefully covers us in up or down market. Thinking about exiting 1/2 of this trade that seems to be going nowhere.
Disclaimer - I buy everything in the hypothetical Investors411 portfolio. If stock is mentioned and I own it you will know.
_________________________
Long Term Outlook
Same old mantra -Reasoning behind May 20th & Sept 22 downgrades still stand.
Add to this Europe's problems, Japan's disaster, China's slowdown, a rising dollar (bad for globalized US companies), & our broken opaque financial system.  Best hope for a significant move higher is the Fed to act significantly – inject more liquidity or Europe to come to some clear final resolution instead of kicking the can down the road.
NB - If the benchmark S&P 500 closes above its 50 DMA today (& I think there is a good chance for it to happen) the Outlook will change to NEUTRAL
CAUTIOUSLY BEARISH*
*Investors411 has 5 different long term valuations - BULLISH, CAUTIOUSLY BULLISH, NEUTRAL, CAUTIOUSLY BEARISH, and BEARISH.
* Everything written in BROWN is a repeat from a previous day(s)
AS ALWAYS, DO YOUR OWN RESEARCH BEFORE INVESTING
ALL TRADING INVOLVES RISK AND POTENTIAL LOSS OF PRINCIPLE