Jobs,Jobs, Jobs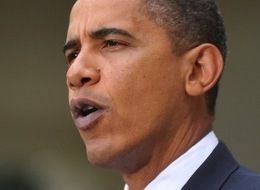 To paraphrase James Carvill's famous line "Its all about the jobs stupid."  (he used the word economy) Obama's mistakes-
Obama's took on Larry Summers and the Wall Street crew who dominate his economic team.
Underestimating just how huge the economic meltdown was.
Realizing that because of globalization and superior growth in emerging markets major US companies are going to hire first abroad instead of here. (see past Investors411)
What can Obama do to solve this problem? The stimulus and tax cuts help, but two noted economic experts offer solutions.
Robert Reich – LINK – 4 steps – Use funds to bail out average people through states, 1 year payroll tax holiday on first 20k, Job tax credit for small business, & directly loan to small business (bypass big banks)_
Bob Kutner – LINK – Makes the case for increased deficit spending for job creation. Bob looks at the most recent poll that show 53% believe unemployment is the #1 concern of Americans vs 27% who fear the deficit.
Bottom Line – Deficits are bad even crippling. This year the deficit will be about 11% of GDP. In World War 2 deficits maxed out at 29% of GDP. If Democrats want to stop an  implosion in the next election they have to create more jobs NOW.
Unfortunately from Nobel Prize winners from Krugman to Stiglitz , Obama has ignored the progressive side of his party.
Your Comments
#1) Mama Jama brings ups Thursday's Tom Friedman column again LINK – about how radical and anti Obama the right has become in America.  This is alien for lots of us who don't even consider Obama a liberal, but are also worried about the fact that no one seems to be standing up against this divisive hatred.
One of the latest examples was members of the right carrying guns to a health care town hall meeting.  Can you imagine the outrage if blacks and Hispanics carried guns to a Sarah Palin speech.
#2) Don't worry about a 700 point dip, unless someone bombs Iran . Both the Obama administration and the Fed are flooding the economy with money forcing the dollar down. This in turn makes American exports cheaper and imports less expensive. As long as this money flows Wall Street will do well. Add to this less transparency and no real regulations on shadow financial institutions.

STOCKS
AS ALWAYS, DO YOUR OWN RESEARCH BEFORE INVESTING!
| Index | Percentage % | Volume |
| --- | --- | --- |
| Dow | +1.18% | down |
| NASDQ | +0.98% | down |
| S&P500 | +1.32% | down |
| Russell2000 | +1.88% | - |
Investors411 record – 4 1/2 years of beating benchmark S&P 500
(see results for last 1/2 year – click  6/25 & scroll down)
Brown

= repeat statements

Green

= usually bullish statements

Red

= Usually bearish statements
Technicals and Fundamentals
Volume fell as markets rose. Therefore, our #1 confirmation factor is NOT giving us a bullish sign.
US markets reacted positively to news that the service sector (ISM number) was back above 50%.
Rumor of the AM is that group of countries (Gulf oil producers) have been meeting to replace dollar as standard currency according to CNBC – lead story. Denied by Saudi's – Should push dollar lower and stocks higher this AM.

Earning season officially starts tomorrow with Alcoa (AA) reporting Wednesday.  Any company that is going to have top line growth (increased profits from sales instead of cost cuts) is what Wall St. is looking for.

——–
Significant forecasting tools/Indexes for stock markets
(Besides #1 Volume & #2 Reaction to News)
BDI - The Baltic Dry Index measures the flow of goods by price (world trade) .
The BDI is @ 47% off its high (early June) Before that it gained almost over 630% from its all time low of 663 in Dec. of 2008 (April 2009 high of 4291 )
The BDI rose only +5 points yesterday and closed the day at 2362 . After a sharp turn higher it looks like we are headed back down.  Longer term (since the June high) the rate of decline has softened, but its still going in the wrong direction.
——-

$USD - Check out the 6 month chart (to the left) or a multi year chart of the US dollar of the US dollar.
Mantra – Dollar up = US stocks down & Dollar down = US stocks up
The dollar fell -0.46% yesterday.
Last year's low was around $71, so there is a long way to go before the next major support level.
Positions
The  Positions Section (top of blog) to see all the latest buys and sells
S&P 500, SPX , our #1 position (20% of portfolio) is down 4 to 5% from highs – This is really a holding position instead of cash.
China, FXI, our #2 position (18% of portfolio) is bit less than 10% down from highs. (very long term investors should see this dip as a buying opportunity) So far this looks like China just moved too high to fast.

Brazil, EWZ , our #3 position  (12% of portfolio) has broken out to a new high. Like a huge group of investors now looking to buy the dip – so look at 3% pullback as a dip.

Gold, GLD, our #4 position (10% of portfolio) is close to a new all time high.
Financials XLF – (5% of portfolio) Selling remainder today -reason,  weak volume behind two day rally
S Korea EWY – (5% of portfolio) Up about 7% and @ 4% from highs.

Traders
– Instead of ETF's – Investors411 does have a position in NVS Novartis (10% of portfolio) a swine flue play. Up 7 to 8% – We will exit this when flu season hits.
One of you recommended MVIS  Microvision- Missed a great buy the dip opportunity because of business trip Thursday & Friday – Looking to buy next dip.

Sold our AAPL position for a +7% gain. Would buy another dip

Long Term Outlook

=

CAUTIOUSLY BULLISH



See Changes in STRATEGY, POSITIONS, & OVERVIEW sections of blog
AS ALWAYS DO YOUR OWN RESEARCH BEFORE INVESTING!