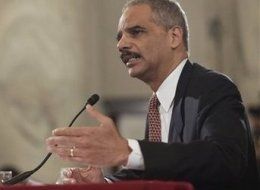 At. Gen. Holder defends American Justice System
Fear and Greed
These are the two basic factors that move stock markets and a whole lot more.  Of course they sometimes go under other names- sex, survival, desire, risk etc. but we are manipulated by them. (see yesterday's update)
Let's take a look at some work done by two Israeli scientists in 1979 Kahneman and Tversky that show how we all miscalculate data when confronted with simple financial choices.
Group 1 was given $1000 Israeli pounds and given a
50% chance of winning an additional 1000 pounds – 16% chose this option
100% change of winning an additional 500 pounds – 84% chose this option
Group 2 was given $2000 Israeli and given a
50% chance of losing 1000 pounds - 69% chose this option
100% chance of losing 1000 pounds – 31% chose this option
In this and other experiments K&T showed a striking asymmetry. Fear (risk) of a financial loss was about 2 1/2 times greater impact than a simiar financial gain. FEAR WINS BIGTIME.
Bottom Line – From Investing to politics to anything involving human behavior, almost all of us succumb to this fear bias.  The trick or path is to overcome this fear bias and you will get better results. Of course, there are other cognitive traps. (see yesterday's pop quiz)
Justice System Nails Another Terrorist
The headline says it all. The American justice system worked and we bagged another terrorist yesterday.

KISS & Stocks (Keep It Simple Stupid)
If you don't understand a term look in up at Investopedia.com dictionary
AS ALWAYS, DO YOUR OWN RESEARCH BEFORE INVESTING!
| Index | Percentage | Volume |
| --- | --- | --- |
| Dow | -0.18% | down |
| NASDQ | -0.08% | down |
| S&P 500 | -0.10% | down |
| Russell 2000- | +0.10% | - |
Investors411 record – 5 years of beating benchmark S&P 500 and almost all major US indexes
Technicals, Fundamentals & Analysis
See Positions , Strategy , and Overview for changes made over weekend.
Low volume and nothing really happened. Technically, the longer we remain flat the greater the chances of a fall. Difficult short term call here – but it looks like a small correction then another push higher into oversold territory.
ETF's- Selling a little (taking profits) into small rallies and more in BIG rally. Sold 1/3 of TYH yesterday at 139.00 for @ +18% profit. Still have 5% of portfolio position in TYH
Significant Indexes
McClellan Index fell to

+46.16.

Basically +60 = overbought and usually a time to sell or lighten up on positions. This is NOT a hard and fast rule but guideline. There has been a sharp fast change and a lot of upside momentum last week. So there is still psychologically a lot of positive momentum out there.
Positions
The  Positions Section = latest buys and sells – (Revised positions last weekend) – These are positions I actually own
Mea Culpa – Should have added more to stock positions while McClellan Index was down at -60. Since stocks rallied dramatically last week so should any stocks we have on our watch list. Unless there was a special circumstance, these stocks should be outperforming the major US indexes.
Thanks to several of you who are sending in additional lists of prospective stocks. Have not had a chance to study them all yet, but will include them in future lists. Trying to keep list under a dozen stocks. This watch List comes from the stocks YOU send in. Tried to pick best of the ones you sent in. As stated before I'm more confident with ETF's than stock picking. Since the McClellan Oscillator is close to +60, or overbought – buying now is more dangerous.
Last Update 2/11/10. Recommendations from 2/11 in black. New thoughts in violet
AS ALWAYS DO YOUR OWN RESEARCH BEFORE INVESTING
Analysis – Notice that the vast majority of these stocks moved higher as conditions of overall US equities went from oversold to (almost) overbought. Big lesson here is to buy when markets are OVERSOLD. YOU have chosen some pretty good stocks.

I'm familiar and use VPRT & PCLN. Plan to own them on dips hopefully sooner than later. Others that look decent on dips are CAAS, ICON, DGIT & CTCT
Caution – Markets are close to overbought
Will go over a few of the new stocks you have sent in later in week or early next week.
Long Term Outlook

= NEUTRAL

AS ALWAYS DO YOUR OWN RESEARCH BEFORE INVESTING