.
Job Creation
.
.
Jobs chart above is the number of jobs created over last four years. It does not include Friday's report which has upward revisions of last two months and a +227k for February.
,
.
Depending on your political bias you give Obama lots of the credit/blame for the number of jobs created.
.
Let's take a closer look at job creation.
.
"That Giant Sucking Sound"
.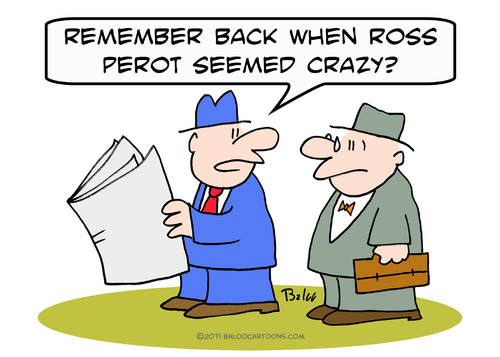 .
Ross Perot, was the most significant third party candidate for President in my lifetime. His "giant sucking sound" quote was the jobs leaving the USA because of globalization and our so called "free market" trade treaties.
At the time, we all thought he was a bit crazy. But, times have changed. Here's two big reasons why.
.
Our Systemic Jobs Problem
.
Globalization
Jobs abroad –

Apple Computer

–

700,000

plus jobs in China and only

45,000

in the USA. Latest editorial by

Bob Kutner

(from my home town) Steve Jobs and American Jobs. FYI – I'm typing on a MAC
We tax all Chinese goods at

2%

, while China taxes all US goods at

25%

.
.
Ross Perot was proven right a long time ago -
The "giant sucking sound" is jobs going abroad.
.
Job Creation Under Obama
.
.
The Factors
.
Obviously systemic Globalization as described above – A systemic

NEGATIVE

for US job creation.
Stimulus Package, Tax Cuts, and Jobs Bills (give it whatever grade you want) Introduced second month of Obama presidency –

POSITIVE

Impact
QE #1 & 2 (plus other Fed measures like low interest rates) – Introduced early

POSITIVE

Impact
Republican take over House in 2010 – NO new jobs bills passed since –

NEGATIVE

Impact.
Last year – Japan meltdown, European Crisis, Emerging Market's GDP 's shrink.  -

NEGATIVE

Impact.
Lots of Baby boomers start to retire this year -

POSITIVE

impact.
Auto Industry saved –

POSITIVE

Impact
Well over 500,000 government jobs cut since Obama took office. Most of any president -

NEGATIV

E

impact
Perhaps some major factor impacting jobs has been missed. Consider, also, we did face financial Armageddon when Obama took office.
.
What would you do different?
Are there other factors?
.
*******************
.
STOCKS
.
Wall Street Bull & OWS Symbol
.
Insight into how Investors411 evaluates stocks, markets and trends can be found in the STRATEGY Section of the blog.
,
Headline
.
Central Banks
Push Markets Higher
[Same as Friday]
.
The long term trend remains (sorry for the repetition) - "

Don't fight the Central Banks

– As long as they are dumping liquidity (printing money) to cover up losses anyone who has thought stocks would falter over the last three years has been on the wrong side of this trade."
______________
.
Old Faithful
.
Almost too good to be true. Old Faithful – The McCellan Oscillator – has worked yet again as an indicator of at least a short term bottom. A bit under 20 times in the last three years it has been a very accurate measurement of technical tops and bottoms.
Our #1 technical forecasting tool, the McCellan Oscillator (MO) rose to

-0.17

.  (for more see  STRATEGY link at top of blog and scroll down) NO technical pressure on  either bears and bulls = 

NEUTRAL
.
______________
.
.
Canary in A European Coal Mine
.
Italian 10 year bond yield up

slightly

to 

4.88%

(8:00 AM EST) Well below the 

7.00%

Danger Zone.
European canary still singing

Ode to Joy

.
Bottom Line
.
Repeat – "Many many retail investors (long term holders) have left the market since the 2008 meltdown.
Many of those that remain have waited for a break even point where they could get out without losing $$$. Major US indexes are back near that point now.
So there should be some additional selling into rallies.
It would be healthy for markets to move sideways or take at least a 3 to 5% dip after a 20+% run higher since October. But stocks and economies are being manipulated by Central Banks and this might not happen.
.
If the liquidity keeps flowing
stocks will keep growing"
.
******************
.
Paul's Corner
.
.
Additions and Changes
to Your stock List!
.
As I suggested in the comments section Friday, don't go crazy here thinking the correction is over! Trade if you want but be careful. We had signs this was coming for over a month, all of that won't disappear in two days.
.
ADDITIONS
.
FL – Foot Locker, Inc., together with its subsidiaries, operates as a retailer of athletic footwear and apparel. The company operates in two segments, Athletic Stores and Direct-to-Customers.
HD – The Home Depot Inc., together with its subsidiaries, operates as a home improvement retailer.
IMAX – IMAX Corporation, together with its subsidiaries, operates as an entertainment technology company specializing in motion picture technologies and presentations worldwide.
URI – United Rentals, Inc., through its subsidiaries, operates as an equipment rental company. It offers approximately 3,000 classes of equipment for rent to customers comprising construction and industrial companies, manufacturers, utilities, municipalities, homeowners, and government entities.
.

TRADERS
.
CMG – continues it march to the stars, quite an impressive chart, Moe's South West grille has a better product, but isn't publicly traded.
DLTR - great chart, headed for the BIG dollar in the sky!
ENB - basing, above the 17, 2 kahunas the past two days
FAST – good chart, buy any small pull back
FL – nice tight chart, buy any small dip
IBM – good chart, buy any small dip
HD – nice tight chart, buy any dip
IMAX – back by popular demand, check with : ) D for trading suggestions!
KLAC - Sitting on the 50, appears to be coming out of a dip
LEN - on its way with the home builders, extended
MA – near 52 week high, extended
MNST – gap up Friday, 52 week high, buy any small dip
RYL - Above the 17 & 50, buyable
TSCO – good chart, above the 17, buy any dip
URI – above the 17 buy able.
WATCHERS
.
AKRX – pulled back with 2012 guidance, sitting on the 50, I sold
BKI – HGSI indicators are now green, on the 50
KOG – above the 17 and the 50, basing.
DUMPSTERS
.
SIMO – As Rick Santorum suggests, I might throw up looking at this chart.
CATM - sitting on the 17 just above the 50, basing removed from Your Stock List to make room for new additions.
FTK – at the moment a very annoying stock, buy at your own risk
Be sure to check earnings release dates, that's your responsibility not mine!
Disclaimer – all comments for education only, buy or trade at your own risk. At time of writing I do own some of the stocks listed.
.
Longer Term Outlook
3 months+
.
Still
CAUTIOUSLY BULLISH
.
AS ALWAYS, DO YOUR OWN RESEARCH BEFORE INVESTING
ALL TRADING INVOLVES RISK AND POTENTIAL LOSS OF PRINCIPLE
CHECK ALL DATA, I MAKE MORE THAN GRAMMAR  ERRORS.