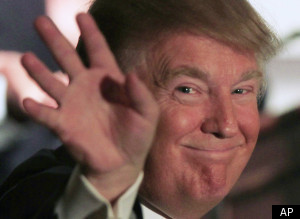 "The Donald Ducks"
Headline from Politico
Sorry this part crashed on my computer – Back tomorrow. Just one happy face of a happy guy (ex presidential candidate) from the financial elite laughing all the way to the bank – Donald Trump.
_____________
KISS & Stocks
(Keep It Simple Stupid)
If you don't understand a term look in up at Investopedia.com dictionary
AS ALWAYS, DO YOUR OWN RESEARCH BEFORE INVESTING!
DOUBLE CHECK ALL DATA, I MAKE MORE THAN GRAMMAR MISTAKES
_____________
| Index | Percentage | Volume |
| --- | --- | --- |
| Dow | -0.38% | up |
| NASDQ | -1.63% | up |
| S&P 500 | -0.62% | flat |
| Russell 2000 | -1.53% | - |
_____________
.
Technicals, Fundamentals & Analysis
Investors411 record - 6 years of beating benchmark S&P 500
UUP

is the tracking stock for the dollar. It echos what the massive FOREX (currency) markets do. There has been

massive volum

e behind each of the four rally days over the last two weeks.

This is VERY bullish for the dollar and NOT for stocks.

Bond Investors  are 100% simply

NOT worried

about the

end of quantitative easing

or the

debt ceiling crisis.

The yield on the 10 year treasury bond (also 2, 5 & 30) keeps falling. If investors were worried about these factors they would NOT buy Treasuries.  Fear of the future sure as hell is not registering on how investors allocate their money.  

Money talks

.

Many investors went overboard for many many months believing the dollar would keep falling. It's not falling, and these massive positions are now unwinding.  

As the dollar goes up, stocks go down.

Impossible to predict how long the dollar will move higher and, as a result,  stocks lower.- Another day or many months.
_________________
Shorter Term Forecasting Indexes
There are hundreds of forecasting tools, – These two tools have worked
When they stop working Investors411 will use other Indexes
The Dollar (USD) [

Any daily price move over +/- 0.50 is significant. Dollar usually moves inversely to stocks

] Dollar fell -0.28% yesterday.  Dollar bulls are on a big run that started 8 trading days ago. Any quick look at the tracking stock for the dollar UUP shows massive volume on up days and meager volume on down days – Great news if you are long the dollar, but NOT good news for stocks. For stocks shorter term trend = 

Bearish

McClellan Index - (MO) [

The very rough guideline is over +60 = overbought market = sell positions or short stocks, & -60 = oversold market = buy stocks .

] Mo fell to 

-33.34.

On its way to oversold (

@-60

) Another bad day or two and we should be ready for at least an oversold bounce. The bullish side of the

Neutral

/Bullish

will grow, the lower we go.

= Neutral/

Bullish
________________
Paul's Corner
Just time for a quick check up of Your Stock List today. Looks like most took a hit today. All of the major averages to a big hit Monday.  Virtually all of the Industry Groups we down/red today. Protect your capital!
POT

sitting on the 200, up 1.34

BEXP

just above the 200, up 0.22
ABC looks Ok up 0.23
SAP Doji candle stick (Indecision), just above the 50, -0.24
KSU sitting just above the 50 -0.27
JNPR just below the 50, if it crosses up  through the 50 a buy could be considered. -0.51

RVBD

, above the 50 chart Ok. -0.55

CPHD

chart Ok -0.70
IMAX chart Ok -0.84

ALTR

Chart Ok -1.17
BIDU looks to be breaking down, not buyable until it reverses, – 3.51

ADTN

, dropped below the 17, sitting on the 50 – 1.21
PCLN dropped to the 50, – 17.23

SWKS

- 1.10 not buyable until it crosses up through the 50!

LYB

all indicators red, broken down, not buyable at this time. (Gas index down 5% yesterday)

SPRD

all indicators red, sitting below the 50

RNOW

all indicators red, below the 50.
Don't forget tomorrow May 18th Jeffrey Scott a HGSI user is going to present a HGSI Webinar and will show how he uses HGSI in his successful trading. I invite any of you who are interested in a quality analysis program and building your trading skills to watch the webinar. See if Jeff can find and good stocks in a down market!
The Power Of HGSI Webinar May 18th from 8:00pm to 9:30pm EDT Registration is required and the webinar is free.
Please note, I am a HGSI user, I pay a monthly fee for the program and I receive no compensation for recommending the product.
Remember, you are responsible for your investment decisions, and I am not.  Please do your diligence, and please take ownership for your actions
______________
Check out the advice, recommendations, analysis by bloggers on stocks,politics and trends in the comments section of the blog  Many of the best concepts regarding YOUR Financial Future are discussed their. Watch for Paul's Corner every Tuesday and Thursday
_________________
Longer Term Outlook
CAUTIOUSLY BULLISH
AS ALWAYS, DO YOUR OWN RESEARCH BEFORE INVESTING