.
It Will Save LIVES
.
.
Definitely Worth Watching
.
Click on picture above for LINK
.
Thanks to RF for sending in this NEW Information, with the more than accurate statement -
.
"THIS IS FOR EVERYBODY"
.
********************
.
Remember When
Nobel Prize Winners
were Respected?
.
.
They Still Are
.
Paul Krugman, a nobel Prize winning economist on "Pink Slime Economics."
.
GOP Budget
"The Most Fraudulent Budget Ever"
.
********************
.
The Great Divide
.
.
.
By Yankee Bob
.
The Great Divide…
is the America of JFK that stands in the America we grew up in and the shift,..the denial of that  reality.
On one side from our independence and annunciated by JFK so eloquently is the belief that Americans as a group are resourceful and talented enough to accomplish any goal that we commonly hold to be worth doing.
JFK set our sights on the occupation of the moon before we had the technology and hardware to do so and America rolled up her collective sleeves and did it before the decade was ended. That's the…
.
"Yes,WE CAN America.
That's the America we thought we lived in. Common goals,common action for the common good.
.
_____________
.
Katrina brought in the divider Bush, sitting distant by himself in an airplane portal.
.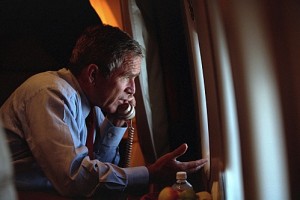 .
Shrinking from the task of rebuilding and helping to heal the wounds from Katrina. Instead of moving heaven and earth to help the suffering of the Gulf Coast, Bush and company proclaimed. "How could we have known? What could we have done and then Inaction was followed with more inaction.
The Right used the situation to rid NO of as many poor blacks as it could so whites can rebuild NO as they want to without  a third of the previous population.
.
We went from …Yes,we can to  No ,We won't .
We went from we are in this together to
You're on your own…
By Yankee Bob
Continued in comments section of blog.
.
******************
.
Bankstas & Debt
Editorial
.
.
In STOCK Section below
.
********************
.
STOCKS
.
.
Wall Street Bull and OWS Symbol
..
Insight into how Investors411 evaluates stocks, markets and trends can be found in the STRATEGY Section of the blog.
.
Headline
.
.
The Start of the
2nd Quarter
.
After a first quarter that was dominated by the manipulations of stock markets by Central Banks the question becomes,

will the rally continue

?
The second quarters, for the lat two years, have seen a decline in stock value
However, those quarters were both had the ends of two Fed Quantitative Easing Programs. The new Operation twist goes till June. Europe and Japan have also opened up their printing presses.
The major fundamental behind stocks remains - 

Central Banks printing money and low interest rates. It forces money/people that want a higher rate of return into stocks and other riskier assets.
It's hard to see as much of a rally as we did in the first quarter. But, if the Central banks hang in there its hard to see the rally disintegrate.
Earnings Season starts in a week or two.  That always has some impact.
For short term traders – The first day (or 2) of a new quarter has not always been kind to momentum stocks. However, always remember, the Central Banks have the trump card.
Therefore Still a Long Term Bullish Bias
.
______________
.
.
Old Faithful
The McCellan Oscillator
.
Our #1 technical forecasting tool, the McClellan Oscillator (MO) rose to 

-27.01

. (for more see  STRATEGY link at top of blog and scroll down) The negative number indicates more wiggle room on the upside than down side, but overall MO is  = 

NEUTRAL
.
______________
.
.
Canary in a Coal Mine
.
Investors411 uses two gauges to determine how well Central Banks are doing at manipulating stocks.
Italian 10 year bond yield down  to 

5.06

% (6:15 AM EST) Well below the 

7.00%

Danger Zone.
Our USA canary in the coal mine - The US ten year T bill rose more than usual on Friday to

2.22

%

after an 8 day fall.

2.22

is a very low rate and nothing to worry about yet. Any sustained upward movement would be trouble.
.
______________
.
Bankstas
.
.
As a Trade or Investment
Obviously I loath this group, especially investment banks.
They pretty much own government through their lobbyists.
.
They've destroyed the capitalist banking system that built America and replaced it with an extraction system privatizes the gains and socializes the losses.
Imagine someone taking your money and going to an unregulated casino in Vegas. If they win they make money. If they loose, the 5 biggest investment banks have over $230 trillion in leveraged debt, so they are too big to fail.
.
YOU will have to Bail then out
Or the global economic system is Kaput.
.
Mountain  Vs Mole Hill
.
.
Compare the global $600 trillion
of Banksta's Unregulated Casino Debt
with
The USA $14 trillion Dollar Deficit
.
It what is an obvious case of misdirection, the bankstas and their political/media allies have focused your attention on the mole hill (US deficit) instead of the mountain (Banksta over leverage casino debt) – Only in a growing plutocracy driven society are they able to get away with this.
.
The only obstacle out there for bankstas is the
(More on this later)
.
Like any third world dictator you can extract money from all the loans that that your subjects make.
.
Obviously the bankstas are going to make money.
Their sector led last quarter and should lead again.
.
..
**********************
.
Longer Term Outlook
3 months+
.
Still
CAUTIOUSLY BULLISH
.
AS ALWAYS, DO YOUR OWN RESEARCH BEFORE INVESTING
ALL TRADING INVOLVES RISK AND POTENTIAL LOSS OF PRINCIPLE
CHECK ALL DATA, I MAKE MORE THAN GRAMMAR  ERRORS.