Nobel Laureate Michael Spence has a workable solution for the Jobs crisis.
His book – The Next Convergence
The great illusion in the USA is somehow the private sector will bail us out. Baloney!
American Companies are doing GREAT. They are flush with $1.68 trillion in profits from last quarter. But as you all know (see past Investors411) they take that money and invest it overseas. Spence work looks into just that the loss of jobs here from 1980 to 2008. The money quote from Time Magazine
"The companies that did business in global markets, including manufacturers, banks, exporters, energy firms and financial services, contributed almost nothing to overall American job growth. The firms that did contribute were those operating mostly in the U.S. market, immune to global competition — health care companies, government agencies, retailers and hotels. Sadly, jobs in these sectors are lower paid and lower skilled than those that were outsourced."
Spence offers a concrete formula for what the USA has to do to create jobs.
Solving The Job Problem
Germany in 2000 was faced with a huge economic problem of incorporating the much economically weaker East Germany with the far more weaalthy West Germany.
Government, labor leaders and CEO's sat down together. Government offered companies temporary tax breaks if they would NOT outsource. Company leaders worked with educators to find the right skills they needed.
It worked!
( last page of the Time Magazine article referenced above has  more)
The solution is simple and obvious, yet the political polarization and the lobbyists in the USA keep tearing us apart.
_____________
KISS & Stocks
(Keep It Simple Stupid)
If you don't understand a term look in up at Investopedia.com dictionary
AS ALWAYS, DO YOUR OWN RESEARCH BEFORE INVESTING!
DOUBLE CHECK ALL DATA, I MAKE MORE THAN GRAMMAR MISTAKES
_____________
| Index | Percentage | Volume |
| --- | --- | --- |
| Dow | -1.42% | Up |
| NASDQ | -1.53% | Up |
| S&P 500 | -1.40% | Up |
| Russell 2000 | -1.65% | - |
_____________
.
Technicals, Fundamentals & Analysis
US Stocks moved dramatically lower in increased, but average volume Friday. (Dow did have above average volume). None of this volume approaches climax sell off volume. As usual

today is a confirmation day of Friday's significant move down

.
Conformation for

Bears

is going to be difficult because of oversold conditions (see MO below) Bears will have to hold onto most of the losses or add to them to confirm the move down. If f it does get confirmed, look out below.
Bottom Line – Short term bounce is likely, but every sophisticated investor trader is aware that the last bounce was a dead cat so expect more caution early. Longer term – see

Reading the Tea Leaves.
Fed has released its POMO (

the last of QE #

2)

money schedule $47 to $60 billion ( and a couple minor purchases in  early July) that it will purchase from its 20 Primary dealers/big worldwide banks.
Congratulations to both Paul & The Critic for taking profits at the close on Friday – Nobody ever went broke taking profits. (see comments section of blog) A good short term move.
The McClellan Oscillator

(

MO

) chart fell  to

-67.93

.

US Stocks are

oversold

. (anything below -60 = oversold) Just like last week,  another "snapback" oversold rally is possible today. This is the most US stocks have been oversold since mid March
Reading The Tea Leaves

– Repeat from Friday – "

this looks like what they call a dead cat bounce.

"

Obviously this happened Friday.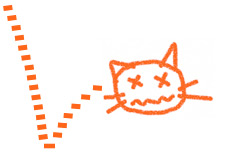 Reading The Tea Leaves

- Longer Term - 

Repeat from last week

–  "

See

May 20th

blog for forecast for this summer

." Fundamentals in the end will trump technical analysis and fear/greed. But right now we are running on fear and that's bearish.
_____________________________
Fed Conspiracy Theories
There is no end to conspiracy theories since our financial system is run in the shadows. It a globalized world out there. Our Fed Bank will have purchased $600 billion by June 30th from the following "Primary" (that's their term) Dealers.
Obviously the world's globalized banking system is interconnected. The international banking cartel rules the world (If you define controlling the flow of money as ruling) Our Fed is the Big Kahuna in this system. But you may find it interesting that 12 of the 20 Primary Dealers are Foreign Banks. Foreign Banks are bolded and all 20 Primary Dealers listed below.
NP Paribas Securities Corp.

Barclays Capital Inc.

Cantor Fitzgerald & Co.

Citigroup Global Markets Inc.

Credit Suisse Securities (USA) LLC

Daiwa Capital Markets America Inc.

Deutsche Bank Securities Inc.

Goldman, Sachs & Co.

HSBC Securities (USA) Inc.

Jefferies & Company, Inc.

J.P. Morgan Securities LLC

MF Global Inc.

Merrill Lynch, Pierce, Fenner & Smith Incorporated

Mizuho Securities USA Inc.

Morgan Stanley & Co. LLC

Nomura Securities International, Inc.

RBC Capital Markets, LLC

RBS Securities Inc.

SG Americas Securities, LLC

UBS Securities LLC.
You know how oceanographers tag a shark to see where it goes. I'd love to be able to tag the printed $ coming out of our US Treasury and see where it goes.
___________________
Positions
Below – Investors411  hypothetical portfolio that should outperform the S&P 500.
SLV/AGQ (later is very roughly 2x silver and another possibility)  SLV Sold 1/2 for +3% profit. Last part was stopped out at just above what it was bought for. Total Profit +2%
NLY - Annaly Capital Mgt. Ultra high dividend stock. (I realize most of you do not know how to do this or perhaps understand the following, but like The Critic I have bought insurance on NLY - a July put at $18. This cost me  a bit less than 2% of NLY's value)
Caution - "Owners of NLY should look at it chart. A 3 year history show that almost every time this stock and others like it get over extended there is a sharp one day high volume significant fall. Two major declines in the last six months and we are long overdue for the pattern to repeat itself. For prospective buyers after the dip is the time to buy."
As predicted NLY has had a big drop(for NLY a @2% drop os two days is big)  I expect this drop will continue at least for today and perhaps break though its 50 day moving average.  Investors411 looks at NLY & AGNC as potential Buy the dip stocks because of big dividends. History (chart pattern shows that NLY can easily fall below its 50 day moving average, and that's a potential buy point.
TZA - (3 times short small cap stocks) Bought 1/2 position in TZA (3x short small cap stocks) at 38.65 on Tuesday   Added another 1/2 position to TZA at 39.75 at/near open Wednesday.  Bought another 1/2 TZA position at 39.75 Thursday.
Investors411 has recommended using TZA or SDS as a hedge/insurance against losses in NLY or other dividend stocks (see past month blogs on dividend stocks.)  stocks) Although stocks may rally today the fundamentals behind the call are still solid and if you are using these short ETF's I'd keep them in play.
Will add another full or 1/2 TZA positions on any modest market rally.
Repeat from last week - Therefore Strategy remains
Short any rally - Investors411 will use TZA (3X short small cap stocks) and SDS (2x short S&P 500 more conservative) .
Sell long positions into any rally -
Taking Profits –  Nobody goes broke taking profits. If you ate net short the market take the profits (I like anything above 5%) and short the next rally.
Disclosure - I own NLY, & TZA - I buy all stocks mentioned in the hypothetical Investors411 portfolio.
_________________
The Fed has moved from an expanding money supply to a neutral – No QE #3. Congress is threatening to contract the money supply. "We [the USA] need to grow at this point more than anything else." Investors411 outlook will remain negative on the USA unless the Fed and/or congress return to more pro growth policies.
_________________
Longer Term Outlook
Neutral/CAUTIOUSLY BEARISH
AS ALWAYS, DO YOUR OWN RESEARCH BEFORE INVESTING
ALL TRADING INVOLVES RISK AND POTENTIAL LOSS OF PRINCIPLE