The Optimist
.
.
Warren Buffett
.
The Put Your Money Where Your Mouth is Challenge
Answered
.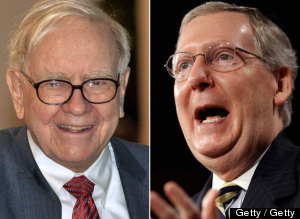 .
Buffett & Republican Senate Leader McConnell
.
The Story
.
The richest man in the USA wants to pay more taxes.
He makes most of his money through capital gains (not work) and feels he should pay more than 15% capital gains tax. He thinks it's not fair to the rest of us who work and pay a higher tax rate.
.
Buffet's Secretary pays a higher rate of taxes than he does.
Most Americans pay a higher tax rate than Buffett.
.
So, McConnell and Republicans in congress challenged Warren Buffett.
If you care so much about America why don't you pay more taxes?
In Time magazine Buffett has put his money where his mouth is and told wealthy Republican members of congress  he would match ALL their contributions dollar for dollar.
Will Republicans Put Up or Shut UP?
_______
Guess who pays a higher tax rate?
.
Uber wealthy Republicans or Brave 911 NYC Firefighter
.
That's right, uber wealthy Mitt Romney has taken a pledge NOT to raise taxes on the richest 1%, who like him are paying 15% tax rates on the capital gains – most of  their income.
Hell, Romney even wants to hide his tax returns/wealth, unlike all the Presidents from Ronald Reagan to Obama – who has published his last 10 tax returns.
Romney and the uber wealthy skim the profits off the top while you do the work.
Whose side are you on?
Romney or the Firefighter
********************
.
.
STOCKS
.
Wall Street Bull and OWS Symbol
.
JPM  the before the bell earnings report Friday will set the tone. Big banks are leaders in the current rally and JPM is perhaps the most solvent of the group.
Our #1 technical forecasting tool, the McCellan Oscillator (MO) fell slightly to 

+51.53

. 50DMA at +0,37

Getting close to overbought territory – about +60. Since early 2008 a reading near+90 has indicated a reversal is coming, (for more see  STRATEGY link at top of blog)

= NEUTRAL/

bearish
Massive drop in Italian bonds this AM

.

-0.5%

=

Very Bullish
Going to take profits on a  chunk of my

EUO calls

today. Still
Warren Buffett takes a big position in BAC and the stock rallies 30+% – Why the call him the Oracle of Omaha.
Overnight Data From Europe
Germany's DAX
Italian 10 year bond
.
********************
.
JS
on
OPTIONS
There has been much discussion of the short term put/call strategy.  That has been quite successful for many readers of this blog.
This column is discussing a longer term, more conservative option play. You don't have to watch it every day. It is a good way to increase your leverage if the market drops or a favorite stock you follow has taken a hit but you think it will do better in the future.
One of my favorite stocks, after the huge tech bubble bursting in 2000, has been CSCO. In May, it pre announced weaker earnings and a restructuring, dropping the Flip phone, and cutting layers of management.  In june, I thought $15 was a very low price and it should do better, so I decided to invest in it again. This time I thought I would take a more aggressive position:
Instead of buying 100 shares, I decided to buy LEAPS, or long term options, to give this recovery time to develop, call options that wouldn't expire till January, 2013, 19 months out.
100 shares would cost $1500. However, on that date, leaps with a strike price of $17.50 were priced at $1.33. or $130 per contract.  At that price, the stock had to rise to $17.50 at expiration to break even.  I thought CSCO, if their restructuring was effective, would go up more than that.
Another factor was I wanted to limit my investment to the cost of 100 shares of stock or less, hoping to get a bigger return than buying the stock. If I bought options with a $15 strike price, I would have had to invest much more. The 10 contracts I purchased cost $1330, less than cost of 100 shares.
The results so far, at today's close, 6 months into this investment is:
-CSCO130119C17.5  @$3.20 = $320 per contract x 10 contracts = $3200 with a profit of  $3200-$1330 (cost of 10 calls) = $1870.
Purchase of 100 shares of CSCO at $15 or $1500, with CSCO closing at $18.97= $1897-$1500 (cost) = $397.
In other words, 140% vs 26%
Also, this option is still active with 12 more months left before expiration. This position is a long term holding, However, I've been trading in and out of  other CSCO options since this purchase because  the stock has been quite active.
It has been my best profit strategy this year.
This strategy, not necessarily this stock, is something to keep in mind in the event of a large market "correction".
********************
.
Longer Term Outlook
3 months+
.
CAUTIOUSLY BULLISH
.
AS ALWAYS, DO YOUR OWN RESEARCH BEFORE INVESTING
ALL TRADING INVOLVES RISK AND POTENTIAL LOSS OF PRINCIPLE
CHECK ALL DATA, I MAKE MORE THAN GRAMMAR  ERRORS.