Tomorrow is election day
Consequences of the 2008 Meltdown
Part 2
Part One gave you some of the trillions that were spent because of the 2008 Shadow Bank Meltdown and covered the financial Armageddon that that would have happened if their had been no bailout. Today's investors will cover some details missed and YOUR comments. Let's simply put some more facts out there so YOU can understand how enormous this rescue plan is and how deep the hole we dug was.  Most Americans have No clue as to what's happening.
Apologies for leaving some of this out and thanks to Commenters who made additions.
QE1 was a total of

$1.7 trillion

in bonds that the Fed bought in 2009  This was divided into

$1.42 trillion

in mortgage backed securities &

$300

billion in Treasuries. According to Mark Zandi roughly for every $500,000 spent  = 250,00 jobs & next year 500 billion  would boost GDP 0.03%..
Thanks Jim J (comments section) I did leave out the

$780 billion

Obama stimulus plan which according the CBO added between 1.7 & 3.3 million jobs.
Thanks to JS for for reminding us how the consumer was encouraged to further into debt as part of all this. Many encouraged by Banks (including me) took additional home equity loans. Others maxed out their credit cards. Today the USA has a more sober consumer
Lets do some math. To jump star the USA economy. (Compare with a country like China that's trying to slow down their economy) the US has $700 TARP (almost all paid back with interest), $787 Obama Stimulus, $1.7 trillion of QE #1, other billions/trillions the unaudited Fed loaned out at almost zero% interest and now QE2. (guesstimate $500,000 billion & more later.
Most of this funding has gone to the shadow banks and to help consumers impacted by the 2008 meltdown.
The most remarkable part of all this is the huge amount of money that's had to be used to just stabilize the US economy at a 9.6% unemployment rate and a 2% GDP. GDP would easily be below zero without it. Yet there are those on the far right who would allow shadow financials and all Americans to become over leveraged again.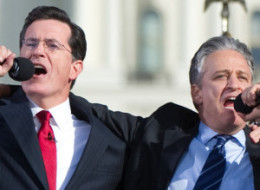 Jon Stewart Rally
Politico said there were 250,000 (impressive) at the Rally to Restore Sanity in DC this weekend. Here's one voice on the rally His closing speech at the above link. Well worth the read.
—
KISS & Stocks (Keep It Simple Stupid)
If you don't understand a term look in up at Investopedia.com dictionary
AS ALWAYS, DO YOUR OWN RESEARCH BEFORE INVESTING!
DOUBLE CHECK ALL DATA, I MAKE MORE THAN GRAMMAR MISTAKES
Index
Percentage
Volume
Dow

+0.04

%

flat
NASDQ

+0.00%

flat
S&P

-0.04%

down

Russell 2000

+0.33%

-
Technicals, Fundamentals & Analysis
Investors411 record – 5 years of beating benchmark S&P 500
US Stock Markets -
US dollar down a bit as stocks were flat. Still predicting to action till we know more about QE2. Next Wednesday the Fed meets and tells us more about their QE2 (Quantitative easing part 2 or print and dump money into economy)
What Will the Fed do? What Will the Fed do? What Will the Fed do?
Think the election polls which predict the Republicans winning the House & Democrats barely holding onto Senate are built into stocks. The Fed decision according to USA  Today (the weekend's) survey of economists is between $400,000 to $750,000 for QE2
Significant Indexes
The Dollar (USD) [

Anything daily price move over +/- 0.50 is significant. Dollar usually moves inversely to stocks

] The dollar fell -0.36% yesterday. Dollar currently moving sideways within a range (see below). Back just below middle of consolidation range Trend for stocks = Neutral
The Baltic Dry Index (BDI) [

measures cost of world trade. Also proxy for China, emerging markets, exporting countries]

Fell a -1.07% Friday. BDI now consolidating after bull run that began in June. The BDI has been overshadowed by the dollar moves, but it if we get a few more downside moves like, Thurs. & Friday outlook will change to neural then bearish Longer term Pattern=

Bullish

/Neutral
McClellan Index – (MO) [

The rough guideline is over +60 = overbought market = sell positions or short stocks, & -60 = oversold market = buy stocks.

] Basically flat closed at 

-14.6

%

yesterday. Six week trend (see chart) is starting looking bearish but location still = NEUTRAL
Reading Tea Leaves.
Mantra -"Any move in UUP (tracking ETF for dollar) above 22.7 resistance is trouble for stocks. Any move below 22.18 support level is good for stocks. A breakout of either the support or resistance level will tell you who wins the dollar war." UUP closed at 22.37
Bottom Line = All eyes on Fed and how big QE2 is going to be. What the Fed says and does about QE 2 Wednesday will probably set the course for stocks and settle the dollar war.
Positions
The  Positions Section link to latest & former buys and sells  - These are positions I actually own
(I do manage 6 accounts that have other positions)
EWS (Singapore)
SSO (2x what S&P does).
Mantra - "Not making any specific move until dollar breaks out of its range. I would look at a breakout higher for the dollar, and a corresponding fall in stocks and the MO to oversold as a buying opportunity for long term investors. "Looks like next Wednesday Fed meeting is the big event."
Managing Risk - Lots of YOUR questions in the comments section are on Managing risk (When to invest)
Ideally we'd like the Long Term Outlook to be Bullish, the market over sold (MO at or below -60) and the dollar's long term trend – bearish & the BDI to be bullish.
It seems highly unlikely we are going to get all three at the same time. If we do I'd jump.
What you do depends on YOUR level of risk
Right now the dollar rules and which way it breaks will probably have a lot to do with the future of stocks.
The Long term Trend is – CAUTIOUSLY BULLISH.
The MO is below zero.
So its not a perfect set up, but it is slightly favorable . The dollar is the key factor & it has NOT broken out of its range. I'd say the Tea Leaves right now are slightly bullish. If you can handle the risk invest. A dollar dropping below its support level and an/or an MO nearing oversold (-60) would be better.
Look for Paul R's always enlightening remarks on stocks and sectors in the comments section of the blog. See POSITION section of blog for lists of potential stocks & ETF's including "YOUR Stock List."
Longer Term Outlook - 
CAUTIOUSLY BULLISH
AS ALWAYS, DO YOUR OWN RESEARCH BEFORE INVESTING!