.
War On Women
.
Photo is Link to 60 second video
Extended Cut (96 seconds) here
Video's speak for themselves. Spread them. If you use Facebook – A Link
From men telling women what to do with their bodies to women earning  75% of what men do,…
.
Discrimination still exist.
.
*****************
.
Romney's Platform Like
Etch-A-Sketch
Shake it up & Start over again
.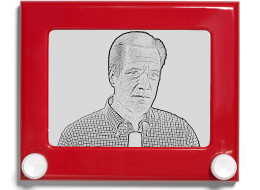 .
All politicians change positions, But…
Mitt Romney
has, become the poster boy for
.
Flip Flops
.
The Romney campaign's senior advisor  told the media that Romney's campaign positions were like "Etch A Sketch."
They would wipe the slate clean and start all over again in the general election. From Politico the story - includes clips from original statement, Santorum/Gingrich response, Democrats response and analysis.
.
How would you feel if the advice given in Investors411 was NOT what I really believed?
Thanks to George for the heads up on this.
..
*******************
.
STOCKS
.
Wall Street Bull and OWS Symbol..
..
Insight into how Investors411 evaluates stocks, markets and trends can be found in the STRATEGY Section of the blog.
.
Headline
.
.
Movie – Hunger Games
.
Maybe you're one of the 26 million who have read the books,
If not, this weekends movie will help you understand the above photo
.
Bottom Line

– The three day rally in Lion's Gate shows FUNDAMENTALS

(Lions Gate new movie

) are the engines that drive stock prices.  Everything from our Old faithful MO to astrology may offer guidelines or warning signs, but

fundamentals rule.
The major fundamental behind stocks is Central Banks printing money and low interest rates. It forces money/people that want a higher rate of return into stocks and other riskier assets.
Therefore a Long Term Bullish Bias
______________
.
.
Old Faithful
McCellan Oscillator
.
Our #1 technical forecasting tool, the McClellan Oscillator (MO) fell to

-25.00.

(for more see  STRATEGY link at top of blog and scroll down) NO technical pressure on  either bears and bulls = 

NEUTRAL
6 month chart of MO. From Yesterday – "

The MO is best at calling tops and bottoms.

However,…the chart  

looks like we maybe heading down the next few days.

Would love to see a dip low enough (past

-60

) for a clearer MO buy signal."
.
______________
.
.
Canary in a Coal Mine
.
Investors411 uses two gauges to determine how well Central Banks are doing at manipulating stocks.
Italian 10 year bond yield up  to

5.07%

(6:00 AM EST) Well below the

7.00%

Danger Zone, but its started to rally again
Our USA canary in the coal mine - The US ten year T bill broke out of its trading range over a week. Hardly something to worry about yet with at a low 

2.29%

yield. But rising rates is something to keep an eye on.
_____________
.
Bottom Line – The rally off the last dip is cooling off.  Fundamentals have NOT dramatically shifted. So this does look like a "healthy" rest for stocks. If our MO goes low enough, perhaps a buy the dip situation will arise.
.
********************
.
Paul's Corner
.
.
AAPL, AAPL, AAPL, AAPL
I gotta buy AAPL,
I just hafta buy AAPL!
.
Gee it's worth more than the coffers of Mitt Romney, more than Rush Limbaugh, it's the most valuable company in the world I just need to buy.
Or do I? Let's be old fashioned and take a look at the chart. I know some folks don't see the sense at looking at a chart, why look at a chart when it's a company like AAPL? The AAPL store is standing room only and the customers go around the block so why look at the chart?
EW asked a few days ago "what's an extended stock?". Well EW AAPL is a perfect example of an extended stock, in fact it's a very extended stock.
Being extended doesn't matter, it's APPL! Oh really? Well let's take a look at AAPL's chart, yeah yeah, I know you don't need to check the chart, it's AAPL.
A stocks chart is a history lesson of its performance over time. One of the first things to check when looking at a stock chart is how far it's from its moving averages, and the typical moving averages used are the 17, 50 and 200 DMA's.
The following chart shows under what conditions a stock is extended, is dangerous to buy and should be watched closely for profit taking by the institutions.
So EW, please be so kind and get out your pocket calculator and tell us if it's dangerous to buy AAPL at this point.
And the answer is?
While we patiently wait for EW to find the calculator, I have an easier way to check a stock extension. Using the proprietary Ian Woodward indicator available on HGSI software we can pictorially chart a stocks extension and evaluate if it's safe to buy or even own a stock.
This indicator in the top of this chart shows the stocks extension from its moving averages, the 17, 50 and 200. The top thin blue line is the sum of all three and we call it the High Jump Indicator. History shows in the recent past how high above its averages AAPL gets and corrects. As you can see AAPL is roughly double its historical point of correction and if history is correct, AAPL will correct.
So my friends, is it safe to buy AAPL at this time?
.
**********************
.
Longer Term Outlook
3 months+
.
Still
CAUTIOUSLY BULLISH
.
AS ALWAYS, DO YOUR OWN RESEARCH BEFORE INVESTING
ALL TRADING INVOLVES RISK AND POTENTIAL LOSS OF PRINCIPLE
CHECK ALL DATA, I MAKE MORE THAN GRAMMAR  ERRORS.