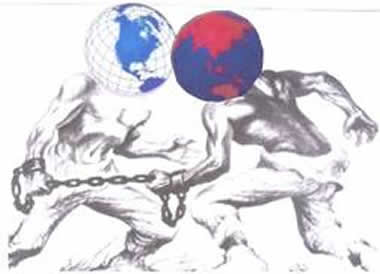 Trade War
This is not an a simplistic question – China's currency manipulation – and clearly one that has to be handled delicately to prevent a trade war with China.  Both Bush & Obama have been cautious in negotiating with China.
Many consider Smoot Hawley Tariff Act of 1930 (see JS in comments section of blog) the protectionism which acted as a major cause in expanding the worldwide Depression. A bipartisan bill passed the Senate (D- Senator Chuck Schumer sponsor) yesterday that would slap tariffs on China.
Last Night in the Republican Debate Mitt Romney went ballistic against China. The "first thing" he'd do on "his first day in office" -
"I will issue an executive order identifying China as a currency manipulator. We'll bring an action against them in front of the WTO for manipulating their currency, and we will go after them."
China is a currency manipulator. China's answer to this is QE #1 & #2 are currency manipulations. They're right -We are currency manipulators. So area lot of other countries. The media will fan the flames of hatred. You know the military industrial complex is desperate for $$$ since Iran and Afghanistan are winding down. You can see where this is headed.
Another Danger Will Robinson Danger Danger call to any long term investors. If this legislation becomes law and/or Romney becomes president both stocks and economics will suffer.
__________________________
Check out the comments frequent blogger of Popeye – from "Occupy Boston" in comments section of blog.
__________________________
If you don't understand a term look in up at Investopedia.com dictionary
AS ALWAYS, DO YOUR OWN RESEARCH BEFORE INVESTING!
DOUBLE CHECK ALL DATA, I MAKE MORE THAN GRAMMAR MISTAKES
| Index | Percentage | Volume |
| --- | --- | --- |
| Dow | -0.15% | weak |
| NASDQ | +0.66% | weak |
| S&P 500 | +0.05% | weak |
| Russell 2000 | +0.10% | |
_______________________
Market Analysis
Focus on Technicals, Fundamentals & HFT's
All's quite as moderately overbought markets hesitate before making their next move.
Earnings season officially started with AA down a @3% in after hours trading. Major reports start next week – They should (as almost always) outperform. The problems is the future.
Tech giant AAPL leading move higher.
Investors411 – Forecasting Tools
The PCR closed at 

+1.41

(Roughly - above 1.25 is getting Bearish and below 0.80 is getting Bullish. 1.00 = same amount of puts and calls. Over last two years the highest for PCR is @1.50 and lowest @0.60 - anything approach these levels shows change likely For more information on PCR LINK)  

=

Bearish
The McClellan Oscillator (#1 forecasting tool)
(MO) flat yesterday

+51.26

(Rough estimates =-30 somewhat oversold, -60 oversold, -90 OMG oversold & +30 somewhat overbought, +60 overbought and +80OMG overbought)

[Technical wonky stuff - The MACD & RSI on the MO are not as high as I'd like for a reversal.] = Neutral/

Bearish
________________________
Reading The Tea Leaves
Short Term Outlook
days, week, weeks
MO & PCR are both

Bearish.
_________________________
Current Positions
Below – Investors411  hypothetical portfolio that should outperform the S&P 500
See POSITIONS Section of blog for more on YSL#5.(scroll to bottom) Again YSL is outperforming S&P 500 Check Paul's Corner and comments section of blog for results
Traders
Investors
Our Hedge Investment – 1/2 has been sold for 0% gain. I have far more confidence that this hedge will work better in a down market.
GLD or DGP – Looking for a buy the dip in gold – Central Banks in Europe, US and Japan are all at of going to 0% interest rates and injecting monetary stimulus (US holding off on QE #3 for now) This is bullish for gold. After breakdown has consolidated and moving back up (see chart). Watching
Disclaimer - I buy everything in the hypothetical Investors411 portfolio. If stock is mentioned and I own it you will know.
_________________________________
Long Term Outlook
3 to 6+ months
NEUTRAL*
*Investors411 has 5 different long term valuations - BULLISH, CAUTIOUSLY BULLISH, NEUTRAL, CAUTIOUSLY BEARISH, and BEARISH.
* Everything written in BROWN is a repeat from a previous day(s)
AS ALWAYS, DO YOUR OWN RESEARCH BEFORE INVESTING
ALL TRADING INVOLVES RISK AND POTENTIAL LOSS OF PRINCIPLE