Last blog for the week. Hope to be back Monday or Tuesday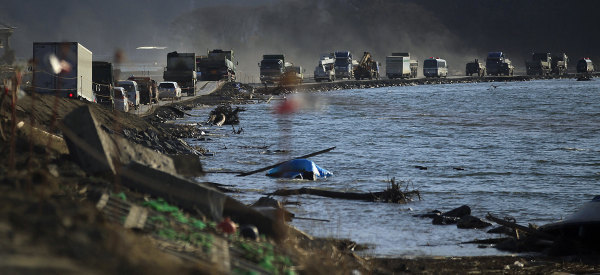 From Huffington Post – Japan
Japan's Reactor Crisis – NYT today has a comprehensive  article – U.S. Sees Array of New Threats at Japan's Nuclear Plant Many Kudos to JS, Popeye. Yankee Bob and Jim J who have kept us up to date on this in the comment section of blog.
CBO on Republican Budget Cuts. – The non partisan Congressional Budget Office analysis of Republican Paul Ryan's budget cut proposals. From Business Insider's Dean Baker - "Representative Ryan Proposes Medicare Plan Under Which Seniors Would Pay Most of Their Income for Health Care" Proposed title if we had a "independent press" and people read the "CBO report"
Green Energy – "If someone told you there was a way you could save 2.5 million to 3 million lives a year and simultaneously halt global warming, reduce air and water pollution and develop secure, reliable energy sources – nearly all with existing technology and at costs comparable with what we spend on energy today – why wouldn't you do it?
Maybe its improbable, but thought this was worth a look – Researchers from Stanford & UC says- "The world can be powered by alternative energy, using today's technology, in 20-40 years"
___________
Stocks
Not much happened. Market rallied in AM boosted by Fed Pomo and fell in PM when Fed minutes said majority of members did not want QE #3 right now.
Lots of this type of editorial about second guessing the Fed abound.  The Fed does Rule or is the Manipulator in Chief. This one is interesting
Many of the ETF's mentioned yesterday are at highs. Preferable to wait for a dip to buy
Reading The Tea Leaves
Longer Term Bottom Line – No Black Swan events have been able to seriously impact the Fed liquidity driven equity market. So bulls rule
Shorter term Bottom Line - McClellan Oscillator shows moderate overbought US equities, so there is resistance to moving higher. Better entry points with lower MO
Market Movers to watch today - Same list with UUP (the dollar) still has most influential, unless others make some huge move.
USO - ETF for oil - Oil up = stocks down - Now back above $100. - Headlines from Libya not good.
UUP - (Tracking ETF for dollar) Remember - The dollar is a contrarian indicator. Bad dollar = good stocks
AAPL – Tech giant and market mover – Trading below its 50 DMA. Since mid February this char shows a series of lower highs and lower lows = Bearish
Japan Rector Developments – This keeps getting worse.
EEM – Emerging market ETF – On a breakout run, but getting  way over extended.
_________________
Your Stock List #4
Your Stock List is about a month old and links/charts to each stock can be found in the POSITIONS section of the blog (scroll down) Paul has analyzed each stock and Monitor has researched the earning date of each stock. Below is their results. You can find this and other stock information in the daily comments section of the Investors411 blog – In my opinion, nobody's perfect and, Paul is right far more than he's wrong. –
AS ALWAYS, DO YOUR OWN RESEARCH BEFORE INVESTING
From Paul
YSL 4 Comments April 5 Close, my opinion and I'm usually wrong!
SAP hold, buy on any pull back
RVBD not buyable
ADTN not buyable basing
CPHD hold, buy on any pull back
BEXP hold, buy on any pull back
SWKS not buyable basing
ALTR buyable
ABC hold, buy on any pull back
IMAX Extended
PCLN Extended
POT hold, buy on any pull back
JNPR basing buy above the 50
BIDU hold, buy on any pull back
KSU buyable
SPRD not buyable
From Monitor
Here's the earnings reporting date of YSL #4 companies.
SAP 1/26 would assume @ 4/26
RVBD 4/25AMC
ADTN 4/13
CPHD 4/20
BEXP 4/29
SWKS 4/20
ALTR 4/26AMC
ABC 4/28
IMAX 2/24 would assume @ 5/24
PCLN 5/9
POT 1/27 would assume @4/27
JNPR 1/25 AMC would assume @4/25
BIDU 4/25
KSU 4/21 BMO
SPRD 3/3AMC would assume @6/3 AMC
_________________
.
Look for Paul R's always enlightening remarks on stocks and sectors in the comments section of the blog. See "POSITION" section of blog (at top of page) for lists of potential stocks & ETF's including "YOUR Stock List."
Longer Term Outlook - CAUTIOUSLY BULLISH
AS ALWAYS, DO YOUR OWN RESEARCH BEFORE INVESTING